Pittsburgh — The main criticism of No. 6 Pittsburgh all season has been the Panthers haven't beaten a quality opponent. No one can say that now.
Ontario Lett scored 10 straight points to start Pittsburgh's comeback in the first half, then used his size and muscle to power a 16-0 run in the second half as the Panthers overwhelmed No. 5 Notre Dame 72-55 Monday night.
"I was sick to my gut all day about this game," Pitt coach Ben Howland said. "I'm relieved this is over."
Notre Dame, denied its fourth victory over a Top Ten opponent, was held scoreless for nearly nine minutes as Pitt turned a 42-38 deficit into a 54-42 lead with 9:12 remaining. The Irish had only two field goals, both 3-pointers, during the final 161¼2 minutes.
"Defense and rebounding wins games," Howland said. "Our guys are proud of the way they play defense."
Brandin Knight finished off three fast-break baskets during the 16-0 run, one of them off a pretty pass by Lett, and Chevy Troutman scored off a putback and a layup.
Knight had 12 points, seven rebounds and three steals, and he and Julius Page held Notre Dame's Chris Thomas to five points on 2-of-15 shooting. Thomas was averaging 17.4 points.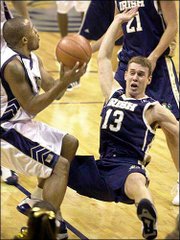 "He threw up some questionable shots, and he was kind of pressing a little bit to get them back into the game," Knight said of Thomas.
Troutman added 12 points and 12 rebounds to key Pitt's 51-30 rebounding edge in the Big East opener for both teams. It also was Pitt's first Big East game in its new Petersen Events Center, and the crowd of 12,508 was into the game from the start.
It was Lett, a 6-foot-6 senior who says he much prefers to play against ranked teams than the easy opponents Pitt (11-1) has mostly played until now, who did the most damage with a career-high 20 points and eight rebounds.
Matt Carroll had 31 points for the Fighting Irish (12-2), but no other Notre Dame player scored more than six.
Copyright 2018 The Associated Press. All rights reserved. This material may not be published, broadcast, rewritten or redistributed. We strive to uphold our values for every story published.