St. Louis — The nation's sputtering economy has other companies scaling back or even scrapping holiday parties, but a resilient Anheuser-Busch couldn't let its landmark 2002 pass without a blowout fit for the self-styled King of Beers.
During its very private revelry Dec. 6 at a St. Louis arena, there was John Mellencamp, brought in to rock more than 3,000 guests. Caterers worked kiosks and buffet tables, featuring such delectables as smoked bison. Drinks? You jest. It's Anheuser-Busch, after all.
"This is our time," the St. Louis Post-Dispatch quoted August Busch IV, the fledgling head of the company's ruling U.S. beer subsidiary, as cheering into a microphone.
He wasn't mistaken, given all that's happened to the company during the past year.
Chugging along
In 2002, the St. Louis-based beer maker known for its top-selling Budweiser and Bud Light brands turned 150 years old. In July, Busch IV's father handed the kingdom's keys to Patrick Stokes, the first time in 142 years that a Busch or Anheuser family member has not been in day-to-day control.
And while other companies big and small struggled, Anheuser-Busch -- the company that weathered two world wars, Prohibition and the Depression -- simply chugged along, pushing to 16 its string of quarters with double-digit earnings-per-share growth. It expects more of the same in 2003, with analysts seeing nothing on the radar that could knock the emperor from its hard-fought throne.
"They're there at the top for one very good reason: They're so unbelievably focused," said Juli Niemann, a portfolio manager at RT Jones Capital Equities in St. Louis. She says detail-minded Anheuser-Busch's meal ticket -- beer, the stuff bought in good times and bad -- has helped insulate it from a choppy U.S. economy.
"In three years of a bear market, what do consumers cry in? They cry in their beer," Niemann said in touting the company that has been a Wall Street darling. "It's been a yeoman investment the last three years. No one can complain about that."
All told, she says: "They're one huge market monolith."
A brewing behemoth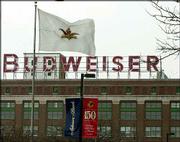 The reasons for such regality are legion, with many heaping the credit upon Busch III:
--As the fourth generation of his family to have taken the company's helm, Busch III turned Anheuser-Busch into a brewing behemoth now holding roughly half of the U.S. market. In his 27 years as CEO, the company's market share has doubled.
--Anheuser-Busch, once with little presence beyond America's shores, licenses Budweiser production in Canada and three other continents, and has a 50 percent stake in Mexico's largest brewer. Anheuser-Busch, with a dozen U.S. breweries and two overseas, sells beer in more than 80 countries.
--Anheuser-Busch has expanded to more than 40 brands of beer and other beverages, including "specialty" beers, non-alcohol brews and the trendy "malternatives."
While Anheuser-Busch officials did not reply to interview requests for this story, observers were more than willing to speak about the giant they say -- Clydesdales aside -- doesn't horse around.
"They keep raising the bar on themselves," said Benj Steinman, editor of Beer Marketer's Insights, a trade publication. "They come up with something very hot, drop it and move onto the next thing before it gets stale.
Getting there wasn't easy.
Flash back to 1860, when St. Louis newcomer and soap maker Eberhard Anheuser -- little versed in beer making -- bought the 8-year-old, bankrupt Bavarian Brewery and, with a partner, dubbed it E. Anheuser & Co. Bavarian Brewery.
Anheuser got help from son-in-law Adolphus Busch, who in 1864 signed on as a salesman. Five years later, he bought out Anheuser's partner.
The birth of Budweiser
Busch embraced technology, becoming the first U.S. brewer to use pasteurization. The process made beer a stable product, no longer something that spoiled within days. And exploiting industrialization, Busch mass-produced bottles of beer by the millions.
In 1876, E. Anheuser & Co. rolled out a light-colored lager and named it Budweiser, America's first national beer brand. Busch marketed the beer like no other, using billboards and promotional items.
By the 20th century, the St. Louis company known then as Anheuser-Busch Brewing Association was billing Budweiser as "The King of Bottled Beers."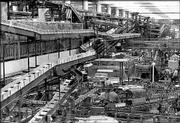 But trying times loomed. America's 1917 foray into World War I generated fierce sentiments in America against anything, even beer, with German roots. And growing support for barring U.S. sale of alcoholic beverages led to Prohibition starting its 13-year run in 1920.
Anheuser-Busch weathered Prohibition by deftly making everything from truck bodies to refrigerated cabinets and ice cream, soft drinks and yeast. When Prohibition ceased in 1933, only Anheuser-Busch and 322 others reopened -- a sliver of the 1,400 breweries nationwide in 1914.
During World War II, Anheuser-Busch's grain, packaging and transportation helped feed the U.S. war machine. Afterward, the company and several rivals traded off as the nation's market leader before Anheuser-Busch, two years after debuting its Busch brand, retook the throne in 1957 and never looked back.
Along the way, the company began building a nationwide network of regional breweries. Production soared -- five million barrels in 1951 doubled by 1964, then doubled again to 20 million barrels in 1970 before reaching 30 million just four years later.
In 1982, Anheuser-Busch rolled out its Bud Light brand, responding to its rival Miller Lite amid a nationwide surge in health consciousness. A dozen years later, Bud Light became the nation's top-selling light beer.
Helping propel the company was its marketing that many trumpeted as ingenious and catchy, making household names and commercial stars of a dog named Spuds McKenzie, lifelike frogs croaking "Bud-Weis-Er," and dudes asking, "Whasssssup?"
"The marketing -- that's where they've been creative, and that's what wins in the beer business," Steinman said. "It's really their ability to be disciplined, focused and relentless when they find something that works.
"You have to respect that as a company so dominant in their industry, they're still raising the bar on themselves."
Copyright 2018 The Associated Press. All rights reserved. This material may not be published, broadcast, rewritten or redistributed. We strive to uphold our values for every story published.