Ever think about how furniture is named?
Sometimes it's named for its use. A stool is a type of seat, but a footstool is a stool used just for the feet. A Windsor chair was named for some chairs found near Windsor, England, by King George II in 1728, although this type of stick-construction chair was first made years before.
But few people realize that the breakfront, a large piece of furniture with bookshelves at the top, was named for its shape. The design dates from the 18th century and has remained popular. The breakfront was made in three or more sections, and the center section projected beyond the other sections, visually breaking the front line. Today we have breakfront bureaus, breakfront desks, breakfront cabinets and breakfront bookshelves. The top section has many uses, but the "broken front" gives the piece its name.
My mother gave me one of her ceramic casserole dishes. Its diameter is 8 inches, and it must be at least 60 years old. On the outside, there's a Kelvinator insignia, and on the bottom is a scroll mark that reads "Hot Oven, Harker, The oldest pottery in America, China Ware." Why are there two marks?
Your casserole was an advertising premium that probably came free with a Kelvinator refrigerator or range your mother bought in the 1930s or '40s. Harker Pottery Co. was incorporated in East Liverpool, Ohio, in 1890. It was in business there until 1972. During the Depression, Harker kept business going by entering into agreements to make premiums for department stores and other retailers. The company manufactured several advertising lines, including the famous Autumn Leaf pattern made for the Jewel Tea Co. Harker's "Hot Oven" kitchen wares were introduced in 1926. They were advertised as "oven-to-table safe." The Kelvinator Co. was founded in Detroit in 1916. It was named for Lord Kelvin, an Englishman who was a pioneer in the field of refrigeration.
Back in the 1940s, my brothers and I had fun riding our favorite toy, a Doodle-Bug. We haven't seen or heard of it since. No one seems to know what we're talking about when we describe it. Our grandparents bought it in or near Chicago. It had one wheel in front and two in back. Can you help us verify what we remember?
The Doodle-Bug is a red, steel-framed motor scooter fitted with a small Briggs & Stratton engine. There were about 40,000 manufactured in the 1940s by Beam Manufacturing Co. of Webster City, Iowa. They were sold at Gamble stores in the Midwest. There is a Doodle-Bug Club of America that holds an annual celebration in Webster City. Members of the club say that only about 4,000 Doodle-Bugs with working engines are still around.
In cleaning out my 95-year-old mother's house, I found three unopened boxes of "Ball Zinc Caps" among her canning supplies. I wondered if they have any value.
People who collect glass bottles and fruit jars collect anything else connected with their favorites. They look for openers, ads, caps and other items known as "go-withs." A box of caps is worth $5 to $25.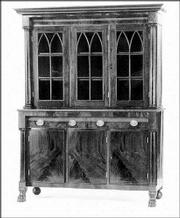 My 91-year-old aunt died and left me her Mickey Mouse doll. The doll has been wrapped in tissue paper all these years. Mickey stands about 12 inches tall and has pie eyes. He is wearing red shorts and red shoes. His hands are yellow. There are no tags, but the bottom of Mickey's left foot is signed "To Gunther, Walt Disney." Can you tell me the value of the doll and how to sell it?
From the information you have given us, we suspect that your doll was homemade using a McCall's doll pattern. The patterns were licensed by Disney and were sold from 1931 to 1939. The pattern was based on the Mickey Mouse dolls made by Charlotte Clark, a Los Angeles housewife who was granted one of the first licenses for Disney dolls. The note written on the bottom of your doll's foot was probably written by the person who made the doll. Mickey Mouse dolls made during the 1930s from McCall's patterns sell for about $200.
My old banjo clock was made by Seth Thomas. The face of the clock looks like shiny enamel. A metal eagle sits on top of the clock. There is also a reverse painting of a sailing ship on the glass case at the bottom. Age and value?
Seth Thomas (1785-1859) opened a clock shop in Plymouth, Conn., in 1813. Thomas was a successful businessman whose clocks sold well. His shop was incorporated in 1855. Your clock dates from about 1929. Its case is mahogany. If it is all original and in excellent condition, it would sell for about $300.
¢
The Kovels answer as many questions as possible through the column. By sending a letter with a question, you give full permission for its use in the column or any other Kovel forum. Names and addresses will not be published. We cannot guarantee the return of any photograph, but if a stamped envelope is included, we will try. The volume of mail makes personal answers or appraisals impossible. Write to Kovels, (name of your newspaper), King Features Syndicate, 888 Seventh Ave., New York, NY 10019.
Copyright 2018 The Lawrence Journal-World. All rights reserved. This material may not be published, broadcast, rewritten or redistributed. We strive to uphold our values for every story published.