Dedric Moore spent last Sunday with a paint brush in his hand and a mission in his head.
The research analyst was on loan from Callahan Creek Inc., a Lawrence advertising firm, and was looking to give back to his community by volunteering with South of the Central Community Group to paint over graffiti in his Kansas City, Kan., neighborhood.
"I'm trying to help improve the community," Moore said. "It's a reasonably poor, underdeveloped inner-city, and I wanted to stay and help improve the neighborhood rather than move away."
Moore isn't the only one volunteering these days.
According to a U.S. Bureau of Labor report on volunteerism, 27.6 percent of Americans age 16 and older volunteered between September 2001 and September 2002. That works out to roughly 59 million people.
"It's been wonderful," said Rebecca Newman, volunteer coordinator for Lawrence's Salvation Army. "We had 89 volunteers and a total of 179 hours of volunteer help just here in the building. That's not including our coat drive or toy distribution."
Other local volunteer organizations had similar experiences in 2002.
"In general, volunteerism is increasing," said Matt Rehder, an AmeriCorps Promise Fellow who works mainly with youth volunteers. "I've registered nearly 1,000 kids this past year doing over 3,000 hours of service. That's at least double from the year before."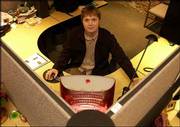 Volunteers have organized and taken part in food and clothing drives, helped take care of the elderly and sick, served the homeless at shelters and donated time to do anything else that's been asked of them, said Michelle Heller, director of the Roger Hill Volunteer Center.
"I have read that volunteerism is up nationwide, and Lawrence mimics that because residents are very concerned and very caring in our community," Heller said.
And it's not just residents, either.
"We're also getting more and more businesses that want to promote volunteerism," Heller said. "We have many organizations that encourage their employees to volunteer."
Callahan Creek even compensates its employees for volunteering, providing its staff 12 hours of paid time off every year to help an organization of their choice.
"It's really based on our core set of values, and one of those values is generosity," said company president Cindy Maude. "It's just really important to give back to the community and to our profession, from a personal standpoint and from the standpoint of it just being good business."
Maude has volunteered, too, at the Topeka Civic Theater, the United Way and at the Chamber of Commerce in Lawrence and Topeka.
Heller attributes the trend toward volunteering to a greater recognition of what's happening around the world.
"Whether it was Sept. 11 or impending war, people tend to reprioritize and focus on things they should be doing to help others in their community," she said. "We can't fix problems in the bigger picture, but we can do something at home. That's been a sentiment that's been echoed throughout the United States."
Moore's reasons for volunteering are less complex.
"I don't see any reason why anyone wouldn't want to go volunteer," he said.
Copyright 2018 The Lawrence Journal-World. All rights reserved. This material may not be published, broadcast, rewritten or redistributed. We strive to uphold our values for every story published.