Doug Beene has attended more than 500 games at Allen Fieldhouse, but you won't see him rooting for the Jayhawks.
Beene's job as official scorekeeper keeps him from cheering for his favorite team.
"I'd lose my job if I did something like that," he said. "That's not to say we don't say some things under our breath, like, 'That was a helluva shot.'"
Beene, 68, started working miscellaneous sideline jobs at KU games in 1963. He became official scorekeeper in 1973.
During that time, college basketball has become so fast-paced that Beene had to add an assistant scorekeeper -- KU engineering professor Tom Mulinazzi -- to keep up with the action.
"I can't do the job by myself anymore," Beene said. "You're writing something in the scorebook, and something will happen at the other end."
The duties
Beene, a retired geologist for the Kansas Geological Survey, arrives at games more than an hour before tip-off. He and the official timers meet with referees to talk about rules.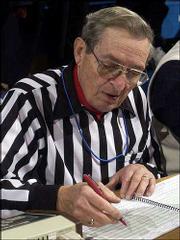 "We discuss the game situation, which is fairly important at the first of the year -- what they're going to be enforcing," Beene said. "Toward the end of the season, they'll just say, 'You guys are a good crew. You know the rules.'"
He takes his spot on the floor 30 minutes before tip-off to check with the teams for number changes or scratches for the game. Fifteen minutes before tip-off, teams have to turn in their starting lineups.
Once the game starts, Beene keeps track of scoring, fouls, free throws and timeouts.
Coaches don't care if he gives the correct players points in the scorebook, as long as the total points are correct, Beene said. They care most whether fouls are charged to the right players.
Beene, Mulinazzi and the scoreboard operators constantly talk among themselves to make sure the right information gets recorded.
Beene wears a striped referee shirt so officials can find him easily on the sideline. But he always wears gray pants -- not the referee's black pants -- and a turtleneck or tie under his shirt so fans don't mistake him for an on-court referee.
'I can't be wrong'
Mulinazzi recalled a time when a team statistician for KU was checking his foul totals with Beene's during halftime of a game. The statistician was certain one player had been charged with too many fouls.
"Doug said, 'Young man, I can't be wrong. I'm the official scorer. This is correct, even if it's wrong,'" Mulinazzi said.
That's not to say Beene doesn't correct mistakes when he knows he erred. Mulinazzi said Beene occasionally checks the wrong person into the game in the scorebook, only to realize his mistake and get it corrected.
"What impresses me about Doug is he's got an eraser on his pencil," Mulinazzi said.
The scorekeeper is a volunteer position. Beene used to receive free tickets for his family, but he said the Internal Revenue Service eventually nixed that.
The job still has its perks, though, like having the inside track on sports information. Beene got to know Missouri coaching legend Norm Stewart over the years, and Stewart walked over to the scorer's bench toward the end of the season in 1999 and said, "Don't you think it's time us old farts retired?"
"And a week later he announced that he was retiring," Beene said.
With the fast pace of the game, Beene said, he has little time to enjoy the Jayhawks. He said a referee once told him the best way to officiate a game is to only think about the present, not the call that was just made. Beene uses that philosophy when recording the game in the scorebook.
"I go home and my wife says, 'What was the score?" Beene said. "And I say, 'I don't know, but I know we won.'"
Copyright 2018 The Lawrence Journal-World. All rights reserved. This material may not be published, broadcast, rewritten or redistributed. We strive to uphold our values for every story published.