Fort Lauderdale, Fla. — A single-car crash that killed a 10-year-old child Wednesday spurred incoming U.S. Senate Majority Leader Bill Frist into action.
Sen. Frist, who was driving two of his teenage sons to the family's Fort Lauderdale condominium, happened upon the crash scene.
"He saw the accident and got out to help," said Todd LeDuc, assistant chief of Broward County Fire Rescue. "He rolled up his sleeves and assisted with the care of a 35-year-old female who had a bad head injury.
"He was helping with medications," LeDuc added. "His assistance was very critical and very much appreciated."
Fire rescue officials said an unidentified family of six, traveling westbound on Interstate 75, was ejected from a sports utility vehicle when it rolled over. The red 1993 Izuzu Rodeo is registered to Neme Chery of Lauderdale Lakes, Fla.
Two people were killed in the crash, including a 10-year-old girl.
J.J. Rayman, a freelance photographer who arrived at the crash site before paramedics, said "bodies were strewn all over the median."
The crash shut down the eastbound lanes of I-75 for about two hours and the westbound lanes past 8 p.m. The Florida Highway Patrol was investigating the accident and had not determined a cause.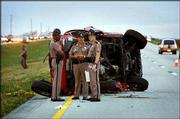 Frist, who will be sworn in as Senate majority leader on Jan. 7, is a board certified general surgeon and heart surgeon and was among six good Samaritans who stopped to help, Leduc said.
He was chosen to replace Sen. Trent Lott, R-Miss., last month amid a furor over racially insensitive remarks Lott made Dec. 5 at a 100th birthday celebration for retiring Sen. Strom Thurmond of South Carolina.
"He was spending time with his family on vacation," said Nick Smith, Frist's spokesman. "He was heading back to the house with his two boys. He came upon it after it occurred but prior to the ambulances and helicopters getting to the scene."
Frist's efforts on Wednesday weren't out of character.
In October 2001, Frist revived Thurmond on the Senate floor after the then-98-year-old senator fainted in the Senate chamber.
After an aide called for help, the senior Republican was moved to the floor in the aisle between the Senate desks, where Frist and several medical personnel worked on him for several minutes.
Frist, a Harvard-trained surgeon who keeps a medical bag in his Senate office, also rushed to the scene of the July 1998 Capitol police shooting. He treated two gunshot victims.
Frist did not have his bag in his car Wednesday, but he still helped treat three of the injured and start them on intravenous lines when the ambulance arrived with equipment, Smith said.
"As a doctor, my first instincts are to help, and I was privileged to offer my assistance today at the scene of this horrible accident," Frist said in a statement released late Wednesday night. "My heart goes out to this family which must face the start of the new year with this terrible tragedy. My thoughts and prayers are with them."
Copyright 2018 The Lawrence Journal-World. All rights reserved. This material may not be published, broadcast, rewritten or redistributed. We strive to uphold our values for every story published.