New York — A decade after the first terrorist attack on the World Trade Center, family and friends of the six victims gathered Wednesday morning for a memorial Mass at a church near ground zero.
The service inside St. Peter's Roman Catholic Church in lower Manhattan, which was filled with mourners, started at 11 a.m. Wednesday -- the 10th anniversary of the day that a bomb exploded in a trade center parking garage on Feb. 26, 1993.
A moment of silence for the six dead occurred at 12:18 p.m., the exact moment of detonation. Among those at the Mass were Mayor Michael Bloomberg and Gov. George Pataki.
"The deaths of these people do not call out for vengeance," said the Rev. Kevin Madigan, pastor of the church, in his homily. "They cry out that we should try to find some meaning ... find a safer world, a world more free and more just."
In his eulogy, Madigan noted how the annual memorial Mass has united the families of the six 1993 victims despite the difficulties of life in this "lawless, disordered world."
The first attack on the trade center, using a van loaded with explosives, killed a half-dozen people, injured more than 1,000 and forced the evacuation of 50,000 people from the twin towers.
"We try to imagine what the world would be like if they were still with us today," Madigan said of the victims. "We try to figure out how the world has changed. ... Time is given to us to cry, to grieve, to recollect, to remember and to move on."
The second attack, using hijacked airplanes, destroyed the center on Sept. 11, 2001.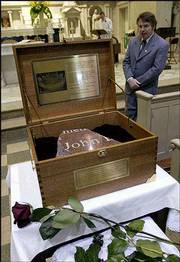 Copyright 2018 The Associated Press. All rights reserved. This material may not be published, broadcast, rewritten or redistributed. We strive to uphold our values for every story published.