Waco, Texas — The best seems to come out in Heather Schreiber when Texas plays Baylor.
She tied her season high with 23 points and grabbed nine rebounds to lead the 10th-ranked Longhorns (20-5, 13-1 Big 12 Conference) to a 79-57 victory Wednesday over the Bears (17-9, 6-8).
Schreiber also scored 23 points last month in a 70-50 victory over Baylor and set her career high of 28 points last season against the Lady Bears.
"I really didn't think I would get that many opportunities tonight after what I did last time," she said. "But we reversed the ball very well and knocked down our shots."
Schreiber connected on nine of 15 shots, including three of four three-pointers. As a team, the Longhorns were 9-of-13 on three-pointers.
"This team can shoot the ball," Texas coach Jody Conradt said. "One stat that stands out tonight is our 23 assists. When you get good ball movement and get into the flow of the game, it sets up a lot of good three-point looks."
Steffanie Blackmon led Baylor with 20 points. Jamie Carey added 15 points, and Kala Bowers contributed 13.
"This Texas team could have beaten a lot of folks tonight," Baylor coach Kim Mulkey-Robertson said.
No. 7 Texas Tech 50, Nebraska 35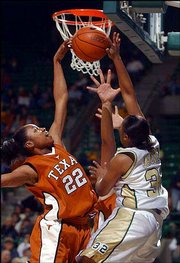 Lincoln, Neb. -- Jia Perkins scored 19 points, and Plenette Pierson had 14 of her 15 rebounds in the second half for Texas Tech.
Tech (23-3, 12-2) fell 28 points short of its league-leading scoring average and shot a season-low 33.3 percent, but the Lady Raiders still won easily being tied with the last-place Cornhuskers at halftime.
Alexa Johnson and Margaret Richards led the Huskers (8-17, 1-13) with 14 points and eight rebounds apiece.
Oklahoma State 68, Texas A&M; 48
College Station, Texas -- Trisha Skibbe had 26 points and 14 rebounds, and Thia Willis added 21 points, leading Oklahoma State.
The Cowgirls (7-18, 3-11 Big 12) shot 49 percent from the field to 35 percent for Texas A&M; (10-15, 3-11), which has lost three straight.
Toccara Williams, Janae Derrick and Natasha Summerville each scored 10 points for Texas A&M.;
Oklahoma 74, Missouri 69
Norman, Okla. -- Maria Villarroel scored 31 points, including all 11 shots from the free-throw line, as Oklahoma beat Missouri.
Villarroel also grabbed seven rebound for the Sooners (17-10, 8-6), who got 12 points and 10 rebounds from Beky Preston.
The Tigers (13-12, 7-7) went 16-of-34 from the field in the first half and led 42-38 at halftime. Evan Unrau and Tracy Lozier each scored 17 for Missouri.
Colorado 79, Iowa State 71
Ames, Iowa -- Tera Bjorklund had 22 points and nine rebounds, leading Colorado.
Maria Billingsley had 17 points and Linda Lappe 16 and six assists for the Buffaloes (20-5, 10-4).
Lindsey Wilson scored a career-high 41 points for Iowa State (10-15, 5-9), hitting 18 of 24 field goal attempts.
Copyright 2018 The Associated Press. All rights reserved. This material may not be published, broadcast, rewritten or redistributed. We strive to uphold our values for every story published.