Hartford, Conn. — A suspicious fire ripped through a nursing home before daybreak Wednesday, killing 10 people and forcing 100 residents -- some of them bedridden, elderly and confused -- into the freezing cold. Police said they wanted to question a resident about the blaze.
The fire at the Greenwood Health Center also injured 23 people, seven critically. Many of the injured were already chronically ill.
"It's certainly the worst fire we've had in the city of Hartford for several decades," Fire Chief Charles Teale said.
Investigators have detained a 23-year-old resident, Lt. Michael Manzi said. Police Chief Bruce Marquis later said the resident had not yet been questioned.
"We are unable to interview that individual right now because that person is under the care of medical professionals and thus deemed not stable," Marquis said. He said the cause of the fire had not been determined.
Flames and thick smoke forced residents out of the single-story brick building and into the darkness. The home cares for coma patients, psychiatric patients and elderly or retarded people, and rescuers had to struggle to take many of them out on gurneys and in wheelchairs.
Family members flooded the facility's parking lot, some clutching pictures and rosaries as they pleaded for information.
"Where is the fire? Where is the fire?" Maria Cunba sobbed, clutching her temples as she ran toward a police officer. She was looking for her mother, a 97-year-old resident of the home.
Jolie Marreo was looking for her 54-year-old uncle.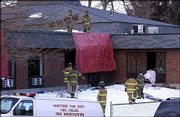 "He couldn't even have gotten out if he wanted to," she said, wiping away tears from behind her glasses. "He's blind."
The fate of the two residents was not immediately known.
Luis Henriquez held a silver-framed school photo of his 17-year-old son, who had been in a coma for three years.
"One of the ministers told me he didn't make it," he said. "I want to know if the body's still here."
The fire broke out at 2:40 a.m. and damaged two sections of the building. In all, 100 of the 148 patients were evacuated. Authorities later found a place for them in another part of the home, and three buses were brought to the scene to provide a warm shelter.
Temperatures were in the single digits at the time, but none of the patients was in the cold for more than 10 minutes, Teale said. State Rep. Minnie Gonzalez, who was at the scene, said one woman pleaded, "Please take me to my room. I'm cold."
More than 80 residents remained at the center Wednesday afternoon; about 30 were being transferred to other facilities, Mayor Eddie Perez said.
Fire Marshal William Abbott said the home was up to code, and extinguishers were present. There was no sprinkler system, but none was required. State officials said a Feb. 7 inspection found no fire or patient care violations.
Copyright 2018 The Associated Press. All rights reserved. This material may not be published, broadcast, rewritten or redistributed. We strive to uphold our values for every story published.