Manhattan — The Kansas University women's basketball team didn't find its rematch with Kansas State sweeter.
No. 5 K-State slaughtered Kansas, 80-57, in front of 10,702 fans Wednesday at Bramlage Coliseum. KSU had handed the Jayhawks an 88-49 defeat Jan. 8 at Allen Fieldhouse.
K-State's star power featured the unexpected return of sophomore sharpshooter Laurie Koehn, who had missed the last seven games because of an ankle injury. Koehn scored nine points, all on three-pointers, adding punch to an already loaded lineup.
Four Wildcats scored in double figures, led by Megan Mahoney's 21 points -- 16 of which came in the first half.
"I got some open looks on some threes," Mahoney said. "We were moving the ball around well, getting good looks and good passes from my teammates."
For the Jayhawks, Wednesday's showdown was gloomy from the outset. Behind the offense of Mahoney and Kendra Wecker, the Wildcats (26-2 overall, 13-1 Big 12 Conference) raced to a 17-6 lead seven minutes in.
KU (10-15, 3-11) never fell to the mat, but took hit after jarring hit from K-State's weapons. A KU three-pointer by Stacey Becker as time expired in the first half cut the deficit to 46-28 -- hardly the significant blow buzzer-beaters often are.
Afterward, coach Marian Washington said she paid little attention to the scoreboard, instead looking for self-improvement from her young squad.
"We are still challenged defensively," Washington said. "Our defense continues to hurt us, so we're going to have to continue to work on it."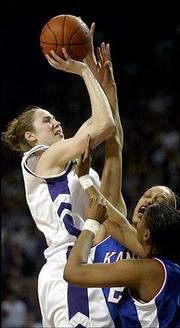 KU's perimeter defense allowed nine K-State three-pointers, including four in the second half. Koehn hit her three in just 10 minutes of play.
"It was important to get some time on the court," Koehn said. "It's been so long."
The only way KU could chisel away was in the paint. The Jayhawks pounded the ball inside, particularly to Crystal Kemp, who finished with a team-high 14 points. Freshman forward Tamara Ransburg, the Jayhawks' hottest player coming in, contributing nine points, eight rebounds and four blocked shots.
Even seldom-used forward Keila Beachem chipped in six first-half points on 3-of-4 shooting.
"You've got to change up every game plan," Kemp said. "You've got to do everything different."
It was K-State's last home game of the season, a game where seniors are usually honored.
The Wildcats, though, have no seniors. Instead, the same arsenal will return next year, looking to build on its four-game winning streak over Kansas.
The Jayhawks, meanwhile, look to keep improving, starting Saturday at Missouri.
"It's the way it works," Washington said. "Coach (Deb) Patterson has done a tremendous job here. It didn't come overnight, though."
Copyright 2018 The Lawrence Journal-World. All rights reserved. This material may not be published, broadcast, rewritten or redistributed. We strive to uphold our values for every story published.