Washington — Democratic senators on Wednesday accused the White House of mounting a whisper campaign against Federal Reserve Chairman Alan Greenspan for not fully endorsing the president's tax cut plan. They put forward a resolution supporting Greenspan.
As the central bank chief sat at the witness table at a Senate Banking Committee hearing, Sen. Charles Schumer, D-N.Y., spoke of "an ongoing, orchestrated whisper campaign to discredit" Greenspan, who heads an independent agency.
"Some in the administration are sending a clear message: You are either with us or against us," Schumer said. "It is a heavy-handed attempt to corrupt the objectivity of the Fed that is so vital to the confidence of our financial markets."
He gave no examples. White House officials dismissed the notion of any such campaign.
"Everyone from the president on down has enormous respect for Chairman Greenspan," White House spokeswoman Claire Buchan said.
The Bush administration is trying to persuade Congress to approve the $670 billion tax-cut plan, including a centerpiece proposal to slash the tax on investor dividends.
President Bush predicted Tuesday that Congress would enact the plan and bolster the faltering economy, which White House advisers said was being slowed by the threat of war in Iraq.
Greenspan, in testimony to the committee two weeks ago, warned that further tax cuts should be paid for. That led Democrats to proclaim that Greenspan had delivered the "kiss of death" for Bush's proposal. The White House pointed out that Greenspan had endorsed the dividend tax proposal.
The Fed chairman said future tax cuts should be paid for, either by spending cuts or tax increases. Bush does not propose that.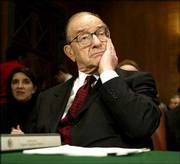 Greenspan also raised doubts about one of Bush's biggest arguments -- that the economy needs another round of government stimulus.
He contended that once the uncertainty over war in Iraq passed, economic growth should accelerate without the need for additional tax cuts.
Greenspan did not comment on the matter at Wednesday's hearing, which was devoted to proposals to overhaul the deposit insurance system.
Greenspan, asked at the hearing about this month's drop in consumer confidence to the lowest level in nearly a decade, said it was "a very significant decline" but not a surprise.
Greenspan also reiterated the Fed's opposition to raising the $100,000 limit on deposit insurance coverage, saying there would be no clear public benefit.
The Federal Deposit Insurance Corp. says the limit has been eroded by inflation to only half of what it was worth in 1980 and should be pegged to the Consumer Price Index.
Greenspan has said that doing so would provide a subsidy for wealthy people.
Copyright 2018 The Associated Press. All rights reserved. This material may not be published, broadcast, rewritten or redistributed. We strive to uphold our values for every story published.