Austin, Texas — This time, Brian Boddicker, and the rest of the Texas reserves did everything right.
Boddicker came off the bench to score 19 points Wednesday night -- 16 in the first half -- as the fifth-ranked Longhorns rebounded from a loss to Oklahoma State with an 82-64 win over Baylor that keeps them in the hunt for the Big 12 Conference title.
Coach Rick Barnes ripped his team after the Longhorns got only two points off the bench in a loss Saturday that cost Texas (19-5, 10-3) a share of the conference lead. The Longhorns are tied for second place, one game behind Kansas University with three to play.
Boddicker made sure he wouldn't have to hear those words again. The junior swingman hit three three-pointers in the key first-half burst that put the game away early.
Boddicker said he took the loss and the criticism from Barnes personally.
"We all do. Our bench just didn't show up that game and we can't have that," Boddicker said. "We have to start putting it all together. Tonight I was feeling pretty good."
Jason Klotz gave Texas its first lead at 9-7 with a turnaround jumper and Sydmill Harris' 3-pointer started a 19-3 run that put the Longhorns well in control at 28-10 with 6:43 left in the first half.
Texas' reserves outscored the starters 21-17 in the first half.
Baylor (13-11, 4-9) came in on a three-game winning streak but had a hard time finding any rhythm against the Texas defense, shooting just 7-of-34 in the first half.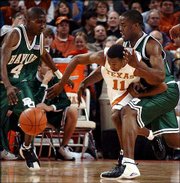 Lawrence Roberts, who led the Bears with 27 points, was 0-for-8 from the floor as Texas took a 38-19 lead into halftime.
Barnes wanted even more in the second.
"The strength of our success has been our 'team,'" Barnes said. "That's what I talked to them about before we went back out. Let's see if we can have the best team effort we've had all year."
Copyright 2018 The Associated Press. All rights reserved. This material may not be published, broadcast, rewritten or redistributed. We strive to uphold our values for every story published.