No question what has kept Haskell Indian Nations University's men's basketball team going during this long, long, long season.
"It's just pride," HINU guard Milan Roman Nose said following Friday night's 90-59 loss to College of the Ozarks at Coffin Complex.
"We're the only Native American school and it's pride. That's what I feel," Roman Nose said after the Fightin' Indians fell for the 25th time in 27 outings. "Not many Native Americans are playing on the college level."
A 6-foot-3 senior reserve guard from Watonga, Okla., Roman Nose transferred to Haskell last season from an Oklahoma junior college.
"If we play hard and hit our shots we can be competitive," Roman Nose said. "We don't have the luxury to miss shots."
Haskell played hard Friday night but, boy, did it miss shots -- 50 of their 67 to be exact. That's 25.4 percent accuracy.
After bolting to a 6-0 lead on a conventional three-point play by Corey Ladson, then a three-pointer from beyond the arc by Ladson, the Indians went into a horrid funk.
During the next 15 minutes, Haskell went 0-for-18 from the floor, committed 12 turnovers and was outscored 25-4 by the Bobcats. No way could the Tribe recover from that spell in the deep freeze.
"It was just one of those things," said first-year HINU coach Melvin Imotichey. "I've seen great teams have nights where the ball won't go in. That's when you have to play hard on defense."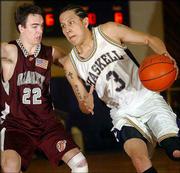 Haskell did hold Ozarks to 38 points and 37.8 percent shooting in the first half, but the Indians made only four of 31 shots before the break.
"We made some strides defensively," Imotichey said. "We just didn't knock any shots down."
Haskell did erupt for 42 points in the second half, but couldn't overcome the miserable start and the 38-17 halftime deficit.
"It's been a long year," Imotichey said, "but every game is an opportunity."
Haskell has only one more opportunity. The Indians (2-25 overall, 1-12 Midlands Collegiate Athletic Conference) will play host to Oklahoma Wesleyan at 5 p.m. today in the season finale.
"We're a program that has to get moving, and not let these things be obstacles," Imotichey said.
Reserve Allen Knows Gun led the Tribe with 12 points. Ladson finished with 10 and a team-high seven rebounds.
Copyright 2018 The Lawrence Journal-World. All rights reserved. This material may not be published, broadcast, rewritten or redistributed. We strive to uphold our values for every story published.