Lately, Baldwin High girls' basketball coach Eric Toot had winced at the scoreboard when Spring Hill -- and only Spring Hill -- was playing his Bulldogs.
"We've got five losses in the last two years," Toot said, "and four of them were to Spring Hill."
Not Tuesday.
Baldwin finally toppled the Broncos, using an aggressive offensive attack to beat Class 4A's second-ranked team 58-53 at the Baldwin junior high gym.
The victory solidifies Baldwin's presence as a legitimate contender for the 4A state crown and gets a monkey off the Bulldogs' back.
Baldwin (16-1) has just one loss this year, to -- you guessed it -- Spring Hill, 46-27 Dec. 12 in the Eudora Tournament.
"We've been looking forward to this game," Bulldog guard Kari Garrison said, "ever since they beat us pretty bad last time."
Garrison ensured Spring Hill wouldn't run away with this game. The junior drained two three-pointers in the first quarter, including one at the buzzer, giving Baldwin an early 15-13 lead. Garrison finished with 15 points to lead the Bulldogs.
"It feels good that they were falling," Garrison said. "We needed them."
Spring Hill (16-2), behind the play of standout Jessica Hocker, took a 27-26 halftime lead. Hocker had 15 of her game-high 22 points in the first half, including eight in the second quarter.
But the Bulldogs outscored the Broncos 18-12 in the third -- including a 10-2 run -- and never trailed again.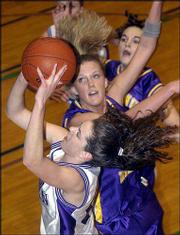 "People tell us to be patient against them," Toot said. "But we decided to be aggressive. It was the main key."
Baldwin, ranked fourth in class 4A, improved to 8-0 in Frontier League play and controls its own destiny. The Bulldogs have two league games left: Friday against Paola and Feb. 28 at Louisburg.
Of course, with the victory, Toot said there could be bigger things ahead.
"I thought tonight was a challenge," Toot said. "We had to prove that we could play with anybody, and we did."
Baldwin 58, Spring Hill 53
Spring Hill 13 14 12 14 -- 53
Baldwin 15 11 18 14 -- 58
Spring Hill: Josie Gehrt 4, Jessica Hocker 22, Holly Gault 4, Megan Sullivan 19, Mallory Hammersmith 0, Lacy Cunningham 4, Amanda Smith 0, Chelsea Nipper 0. Totals 22 (2) 7-11 53.
Baldwin: Anna Skaggs 12, Katie Martin 4, Kayla Pringle 12, Kari Garrison 15, Emily Brown 11, Katie Harris 0, Jamie Lawrenz 0, Katelyn Miles 4, Anna Gillispie 0. Totals 20 (6) 12-16 58.
Copyright 2018 The Lawrence Journal-World. All rights reserved. This material may not be published, broadcast, rewritten or redistributed. We strive to uphold our values for every story published.