The problems faced by today's youth might be more subtle than those of the civil rights movement, said Harris Wofford, but they are just as troublesome.
In the 21st century, millions of children are without caring adults, after-school programs or health insurance, said Wofford, chairman of America's Promise--The Alliance for Youth, a national nonprofit organization.
"And we're going to pay a terrible price, this country and those kids," he said. "The price you pay is going to be felt years later, when jails are full."
A confidant of Martin Luther King Jr. and John F. Kennedy, Wofford spoke Saturday along with Gov. Kathleen Sebelius at Summit II, "Building a Better Community: Taking the Next Steps for our Youth."
About 600 people -- significantly fewer than the 2,000 who attended the first summit in 2001 -- attended the all-day event at Lawrence High School, which focused on how "Promise" ideals could be successfully implemented in Lawrence and Douglas County.
Sebelius said she wanted to work with those at the summit to bring about a rebirth of civic involvement throughout the state.
"We need to make a special appeal to our youths, the young leaders of Kansas, to take part in the lives of their hometowns and be committed, active citizens," she said.
Event organizers said Saturday's event was a good start toward accomplishing those goals.
A "spirit of volunteerism" pervaded the summit, said Kristen Malloy, executive director of Lawrence-Douglas County Promise, a summit co-sponsor.
Malloy pointed to attendance by both young and old and an on-site volunteer effort that will supply various organizations with 300 hygiene and school-supply kits.
Other highlights included testimonials by youth of how the five promises of the movement -- access to caring adults, safe places, healthy starts, marketable skills and opportunities to serve -- had affected their lives.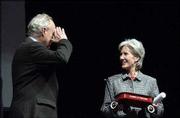 Ashley Burk discussed the help she got from community health programs upon learning she was pregnant at age 14.
"There were a lot of things available that I didn't know about," said Burk, now 22.
And Delinda Pushetonequa, a sophomore at Haskell Indian Nations University, described the positive experience she had volunteering at Pelathe Community Resource Center, 1432 Haskell Ave.
"I did a little bit of everything -- it was like running a business," said Pushetonequa, adding that the experience will one day help her own career.
The testimonials were "incredible," said Pat Roach Smith, spokeswoman for Bert Nash Community Health Center, which also co-sponsored the summit.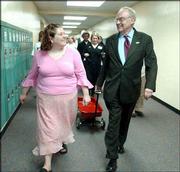 It should become second nature to befriend and support young people, she said, adding that a 2005 summit to be held in cooperation with Haskell already is in the works.
"I truly hope that the fulfillment of those five promises will become a part of the culture of Douglas County," she said.
Wofford said after the event that the way to entrench such values was to think creatively instead of destructively -- and find a way to rally people without the drama provided by something like the civil rights movement.
He pointed to King, who answered the mantra of "burn, baby, burn" with "learn, baby, learn" and "build, baby, build."
Today's is "a creative challenge rather than a protest challenge," Wofford said, and the No. 1 thing communities can do is involve their young people.
We just don't wake up one day and decide to be good citizens, he said. "It's one of those things you have to learn by doing."
Copyright 2018 The Lawrence Journal-World. All rights reserved. This material may not be published, broadcast, rewritten or redistributed. We strive to uphold our values for every story published.