A start-up pharmaceutical company with plans to create drugs to treat Alzheimer's disease and various forms of cancer has chosen Lawrence for its corporate headquarters and research facility.
Officials with Deciphera Pharmaceuticals Inc. confirmed Monday they are relocating their company from Cambridge, Mass., to a new life sciences park on the former Oread Labs campus at 15th Street and Wakarusa Drive.
The company has two employees, but plans call for an expansion to 30 to 35 employees -- primarily biologists, chemists and information technology positions -- within the next three years.
The company chose Lawrence in large part because its president and chief executive has strong Kansas University ties. Daniel Flynn is a co-founder of the company and a 1981 graduate of KU's School of Pharmacy.
Flynn said the company chose Lawrence over Boston even though the area surrounding Harvard University and the Massachusetts Institute of Technology was considered to be one of the three largest life sciences areas in the country.
Flynn said the company settled on Lawrence after meeting with Gary Grunewald, chairman of KU's medicinal chemistry department, and other KU officials and area businesspeople.
"Gary was just absolutely bullish on the idea of us moving here," Flynn said. "He really wanted to see a life sciences company like this relocate to Lawrence. I was open to the idea because I'm familiar with the university and know that KU has one of the top pharmacy schools in the nation."
The company eventually met with Sam Campbell, a Lawrence investor who is leading a group to redevelop land near the former Oread Labs building into a life sciences industrial park.
Campbell decided to become an investor in Deciphera and locate the company's offices in a portion of the 15,000-square-foot building that housed Oread Lab's bulk active pilots plant. The company expects to occupy about half of the building within the next three years.
The company also has reached an agreement with KU officials to use former Oread laboratory space that the university now owns.
Deciphera will use the laboratory space to continue its research on a variety of proteins found in the human body. Flynn said he and co-founder Peter Petillo discovered through research that proteins in patients with several types of diseases -- including Alzheimer's, cancer and diabetes -- had similar problems.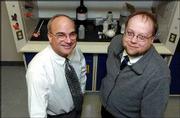 Specifically, the proteins' "switches," which control when the proteins are active and nonactive, did not function properly. Once the pair made that discovery, they were able to develop a drug platform system designed to specifically treat that area of the protein.
"We think we solved the Rubik Cube," Flynn said. "We think we have found the reason why nature sometimes goes amok in our bodies."
The company's business plan calls for partnering with major pharmaceutical companies who would use Deciphera's research to make drugs for potentially 30 to 40 types of diseases.
The company has filed provisional patents on the technology. Flynn said the company was close to completing a drive to raise $2.6 million for future operations and research.
Area economic development officials said the new company could be a major building block in the city's efforts to establish a life sciences industry that would create high-paying, high-tech jobs.
"I really think this company has the potential to transform the way drug development is done," said Matt McClorey, president of the Lawrence Regional Technology Center, which is helping the company with its business planning and search for funding. "If the technology works the way we think it can, it definitely is the type of company that can attract other companies to the area."
The business is the first tenant for the new 17-acre life sciences industrial park.
Campbell, who said a West Coast company also had expressed interest in moving into the park, thinks Deciphera has a good chance to become a significant Lawrence employer.
"I don't want to overstate it, but if it is as we believe it to be, we'll be very, very fortunate to have them here," Campbell said.
Copyright 2018 The Lawrence Journal-World. All rights reserved. This material may not be published, broadcast, rewritten or redistributed. We strive to uphold our values for every story published.