Callie Knoll trusted Robert Hemenway to take notes in her art history class. Physics was another story.
Knoll was this year's choice to be "chancellor for a day." As part of the annual job swap, she attended Chancellor Hemenway's meetings Monday morning. He attended one of her classes -- art history.
Knoll told Hemenway she'd prefer he attend art history instead of her physics class Monday afternoon because she wanted to be ready for a physics test Friday.
"I don't think she had confidence I could get the formulas right," Hemenway said.
Knoll, a freshman from Omaha, Neb., was chosen in a drawing from students who signed up to vote during a Student Senate registration drive last fall.
Hemenway attended Knoll's art history class Monday morning as Knoll met with the chancellor's advisers.
Hemenway sat at the back of the class. He took five pages of notes on Egyptian frescoes.
He said he was impressed Michelle Moseley, the graduate teaching assistant, was able to keep students' attention while the lights were off to show slides.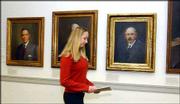 "Everybody was awake, which I thought was amazing," Hemenway said.
Ashley Stapel, a freshman from Eden Prairie, Minn., sat beside Hemenway. She said she had no choice but to pay attention to the lecture because of her powerful classmate.
"I thought I'd better be taking some good notes," she said. "It felt weird when I wasn't writing."
Knoll started the day attending Hemenway's cabinet meeting, then was updated on legislative events by Janet Murguia, executive vice chancellor.
She also met with Mary Burg, the chancellor's executive assistant, about his schedule, and with Warren Corman, university architect, about campus construction projects.
"I learned there was more to the chancellor's job than I thought," she said. "He has to deal with a lot of different things."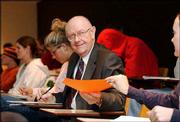 At the end of the morning, Knoll and Hemenway met to compare notes.
Hemenway said he thought his hourlong stint as a student went better this year than last, when he attended a physical education class. He's better suited for desk-sitting than spiking volleyballs, he said.
Knoll said she has no plans to change her major -- architecture -- for a career in higher education administration.
Still, Hemenway quipped: "If I get sick for a day, I'll give you a call."
Copyright 2018 The Lawrence Journal-World. All rights reserved. This material may not be published, broadcast, rewritten or redistributed. We strive to uphold our values for every story published.