Pasadena, Calif. — As NASA temporarily grounds its shuttle fleet following the Columbia disaster, an unmanned spacecraft that has been exploring the solar system for 14 years is nearing the end of its mission -- and still revealing the secrets of a planet hundreds of millions of miles from Earth.
It took the Galileo probe five years to reach Jupiter. It photographed asteroids, and the stormy red spot, and then turned its cameras on the giant planet's moons, each a world in its own right.
The photos and measurements sent back to Earth have provided tantalizing clues suggesting three of those moons -- Callisto, Europa and Ganymede -- have liquid oceans, an idea that has fueled the imagination of scientists who speculate the salty water could harbor extraterrestrial life.
The probe also caught Io, the most volcanically active body in the solar system, in the act as it belched lava and plumes of dust mixed with gas.
Like many extended journeys, Galileo's will end soon with countless miles traveled, its fair share of breakdowns and album after album stuffed with snapshots.
At the end of this month, mission operations at NASA's Jet Propulsion Laboratory for the craft conclude. After that, scientists will check on it once a month until September, when it is directed to crash into Jupiter.
The $1.5 billion mission met 70 percent of its science objectives and made a number of serendipitous discoveries along the way -- despite a range of problems.
The biggest challenge was the failure of its umbrella-like main antenna, which did not unfurl as planned two years after launch. That forced NASA to rely on a smaller antenna, severely squeezing the amount of data Galileo could beam back. The spacecraft still relayed a wealth of data about the planet and moons previously imaged in the 1970s by Pioneer 10 and 11 and Voyager 1 and 2.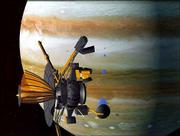 From the beginning, it seemed the mission was constantly overcoming adversity.
Congress first approved the project in 1977, but it took another dozen years to get the spacecraft -- named for Galileo Galilei, who discovered Jupiter's four largest moons in 1610 -- to the launch pad. It was waylaid in part by the 1986 Challenger disaster that grounded NASA's space shuttle fleet.
In 1989, the more than 20-foot spacecraft finally blasted into space aboard shuttle Atlantis and began its 2.3 billion-mile trip.
Along the way, it took the first close-up images of an asteroid. It topped the feat two years later when it spied a tiny moon in orbit around another space rock, another first.
As Galileo approached Jupiter in 1994, it used its unique vantage point to photograph fragments of the comet Shoemaker-Levy 9 as they smashed into the atmosphere, producing brilliant flashes of light on the planet's far side that would have otherwise remained unseen.
At its height, 300 people worked on the mission at JPL. Now just two dozen do. The end is slated for Sept. 21, when Galileo is expected to plunge into Jupiter's stormy atmosphere after completing its 35th loop around the planet.
Copyright 2016 The Associated Press. All rights reserved. This material may not be published, broadcast, rewritten or redistributed. We strive to uphold our values for every story published.