Never mind flying blind. Try swimming blind.
Imagine crawling on your hands and knees perhaps 20 feet underwater, breathing from an oxygen tank and hunting for a body, car or gun.
"You're underwater, and you can't see a thing," said Michael Shanks, supervisor of the Douglas County Sheriff's Underwater Search and Recovery Team. "You feel your way around. It can be stressful."
Since the early 1970s, the unit has been available at the request of county law enforcement agencies and fire departments for underwater searches.
The unit originally was established under control of the Lawrence Fire Department, then moved to Douglas County Civil Defense, which today is known as Emergency Management. Since the mid-1980s, when it was moved under the control of the Sheriff's Office, the unit has obtained better equipment and increased diver training.
Nobody knows more about that evolution than Rich Barr, who was a member of the dive team during its early years.
It was in 1983 when Barr, currently the fire marshal with Lawrence-Douglas County Fire & Medical, had an underwater close call.
Barr had gone under at Clinton Lake to hook a tow line to a car that was to be pulled out. His own tether line got snagged by the tow line. As the car was being pulled out, it was nearly pulled on top of him.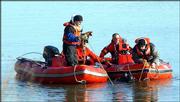 Barr managed to pull himself along the tow line ahead of the car and crack the surface in time to yell for help.
"That spooked me a bit," Barr said.
Today's divers use better underwater suits and radio communication devices, a luxury they didn't have in the early days, Barr noted.
They also are better trained. The team currently consists of more than a dozen volunteers from the Sheriff's Office, Lawrence and Eudora police departments and Fire & Medical. All became certified as recreational underwater divers and then underwent additional training at the Dive Rescue International training center in Fort Collins, Colo.
"It's like going from driving a car to driving a racing car," Shanks said of the difference between recreational diving and search-and-recovery diving.
Each year the team conducts 30 training sessions during the summer and winter at area bodies of water in order to meet standards set by the Fort Collins center.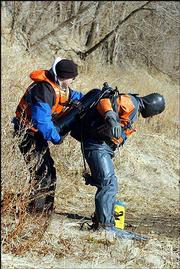 Not all team members are divers. Some are "tenders" who stay on the surface to communicate with and guide the divers underwater.
The team also has worked with the Kansas Department of Wildlife in mapping the channels and other underwater terrain at Clinton and Lone Star lakes and as much as is possible in the ever-changing Kansas River. A little more than a week ago, the team worked with the fire department and a wrecker crew to pull a stolen car out of the river in Lawrence.
Team divers generally carry their equipment in the trunks of their cars, Shanks said. On the future "wish list" is a van or truck that could be used to carry equipment to dive scenes, said Undersheriff Ken McGovern, who oversees the team.
A van would also provide the team with place to change into their gear. Now they do it out in the open or in their cars, Shanks said.
Some other area law enforcement and fire agencies also have underwater teams. Jefferson County is reorganizing its unit under the Sheriff's Office and its emergency service.
"I think the sheriff (Roy Dunnaway) wanted divers that he could call on as needed," said Deputy Bob Chartier, who is helping organize the unit.
Although Jefferson County previously had a dive unit, it has lost many of its old members, Chartier said.
Copyright 2018 The Lawrence Journal-World. All rights reserved. This material may not be published, broadcast, rewritten or redistributed. We strive to uphold our values for every story published.