Easton, Pa. — The first box sold for a nickel and contained eight colors: Red, blue, yellow, green, violet, orange, black and brown. Crayola has been coloring inside the lines ever since.
In an age in which video games and talking dolls and high-tech educational toys compete for their attention, children are still turning to the combination of paraffin wax and pigment to express themselves in riotous color.
Crayola is celebrating its 100th birthday this year with an array of new products that it hopes will appeal to a new generation of children. But it's the humble crayon that made Crayola a household name, and it remains the brand's No. 1 seller.
At its sprawling manufacturing plant outside Easton, Pa., hundreds of workers run the machines that churn out 3 billion crayons a year. The air is heavy with the unmistakable Crayola scent, derived from an ingredient that makes the color transfer more effectively from crayon to paper.
Nowadays, Crayola makes crayons that are twistable, erasable and washable. But until a child picks one up and starts coloring, they're still just lumps of wax.
Chris Byrne, an independent toy consultant, said Crayola crayons remained popular a century later because they satisfy an elemental childhood need.
"Kids are always drawing what's on their mind. Before they can write, before they have more sophisticated methods of self-expression, they are using crayons," he said.
How it started
Crayola was launched by Edwin Binney and his cousin, C. Harold Smith, who started out in 1885 making red oxide pigments for barn paint and carbon for black automobile tires.
In 1900, they opened a mill in Easton to produce slate pencils for schools. They soon identified a market for affordable wax crayons and in 1903, Binney & Smith produced the first box of eight.
Alice Binney, Edwin's wife, coined the Crayola name by joining the French word "craie," or chalk, and "ola," short for "oleaginous," or oily, because crayons are made from petroleum-based wax.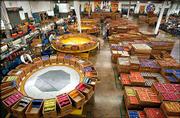 At a time of increasing mechanization, the Crayola crayon "was a fairly delightful development for children, for students, for artists. It occurred at a good time," said David Shayt, an expert in cultural history at the Smithsonian Institution's National Museum of American History, where several hundred boxes of Crayola crayons reside.
Crayola became a classic American brand because it was able to keep its name so closely linked with crayons, Shayt said. One key date in Crayola history is 1958, when the now-ubiquitous box of 64 colors debuted.
"It was a big deal to get the box with the built-in sharpener. They're still hot with my kids," said Chris Spiri, 33, who visited Crayola last week with her 5-year-old son Connor and 3-year-old daughter Hannah.
That same year, the first Crayola color underwent a name change -- Prussian blue became midnight blue because schools were no longer teaching Prussian history. Other name changes reflected changing attitudes about race and culture. Flesh became peach in 1962; Indian red became chestnut in 1999.
When Crayola retired eight traditional colors in 1990, replacing them with cerulean, vivid tangerine, jungle green and other bright shades, crayon aficionados howled. Some of them even formed a group called RUMPS, the Raw Umber and Maize Preservation Society.
Undeterred, Crayola plans to retire another four shades this year. On the chopping block are burnt sienna, blizzard blue, teal blue, mulberry and magic mint. Starting this week, crayon fans will be able to vote online to save one of the five from extinction.
Exploring new things
Binney & Smith -- now a subsidiary of privately-owned Hallmark Cards of Kansas City, Mo. -- is innovating in other ways. A few years ago, Crayola colors began gracing children's bedding and tinting bathtub water. Children can color with Crayola markers that change colors and produce spider-web effects.
Last year, Crayola introduced the Crayon Maker, which melts down crayon stubs and turns them into new crayons.
Mark Schwab, chief executive officer of Binney & Smith, said Crayola strives to celebrate its past while staying relevant to children.
"We're continuing to find ways to wow children," he said. "The key is to give them surprises."
That strategy paid dividends in downtown Easton. In 1996, Binney & Smith opened The Crayola Factory, a 20,000-square-foot "discovery center" where children can learn how crayons are made and play with Crayola products. It was a smashing success: The Crayola Factory has drawn 2.5 million visitors and counting.
Crayola merriment extends to Binney & Smith's corporate headquarters a few miles away. Color is everywhere; the office of marketing manager Stacy Gabrielle is painted in the florid Crayola shades of purple mountain's majesty and neon green.
"It's fun stuff," said Warren Corr, manager of crayon manufacturing. "How much pressure can there be making crayons?"
Copyright 2018 The Associated Press. All rights reserved. This material may not be published, broadcast, rewritten or redistributed. We strive to uphold our values for every story published.