Onstage, kids tapped their feet, pursed their lips and puffed out their cheeks. In the audience, parents and band directors puffed out their chests.
About 200 musically talented junior high students from across the state gathered Friday night on the Kansas University campus for a rehearsal of the John Philip Sousa Kansas Junior Honors Band. The rehearsal was in preparation for a 2 p.m. performance today at the Lied Center.
This is the group's premiere, but Sousa bands, named after the famous conductor of marches, are common in other parts of the country, said Marc Webster, band director of Ellsworth-Kanopolis schools.
Students submitted auditions a couple of months ago, and around Christmas they received copies of the pieces they're playing this weekend, among them "Corsican Litany" by Vaclav Nelhybel.
They practiced before, during and after school. Why put in so much effort?
"Music reaches the soul," Webster said. "The arts are what separates us from the other creatures on this earth."
Almost one-fourth of the band's members are from Lawrence, but the event also gave small-town students a chance to rehearse with a large, skillful group. Alan Paxson, a band director from Chetopa Junior High School about 180 miles south of Lawrence, came to hear his student April Wheeler play the flute.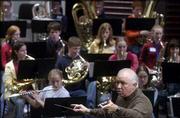 "I feel it was a great honor for her to be selected," he said. "I come from a very small school. We have a very small band."
Two bands will perform today: a "red" band under the direction of Victor R. Sisk, assistant executive director of the Kansas State High School Activities Assn., and a "blue" band led by former KU director of bands Robert E. Foster.
Foster stood at the podium Friday night during a "blue" band rehearsal, slicing a baton through the air. During one break in the music, he asked the students to keep an eye on him using peripheral vision.
Among those in the crowd was Yvonne Strobel, Larned, who was watching her daughter, Lori, play the flute.
The John Philip Sousa Kansas Junior Honors Band will perform at 2 p.m. today at the Lied Center.
"She was very excited because this was statewide," Strobel said.
Copyright 2018 The Lawrence Journal-World. All rights reserved. This material may not be published, broadcast, rewritten or redistributed. We strive to uphold our values for every story published.