State and Lawrence-area officials are alarmed by the unusually high incidence of rabies this winter, which they say might be caused by warmer than normal temperatures.
Twenty-one rabies cases have been confirmed in animals by the Kansas State University Rabies Diagnostic Laboratory -- about four times the norm for January, state studies show.
One of the rabid animals -- a quarterhorse -- was identified three weeks ago in Douglas County.
"It was throwing its head and acting like something was caught in its throat," said George Schreiner, a veterinarian at Eudora Animal Hospital, who was called to see the animal.
Despite treatment for possible neurological disorders, the horse died 12 hours later, Schreiner said. Tests on tissue samples showed it had rabies.
The horse had received rabies shots but was overdue for its annual dose, Schreiner said.
"Chances are it had its nose down and was bitten, possibly by a skunk," he said.
Warmer than normal temperatures this winter have caused animals to be less dormant, health officials said.
The skunk population also may be higher than usual, said Richard Ziesenis, director of Environmental Health at the Douglas County Health Department. There appears to be a 10-year cycle when rabies increases in animals by as much as 50 percent, he said.
"Skunks are the primary carriers," Ziesenis said.
Last year there were just two cases of rabies confirmed in Douglas County, state records showed. The animals, a skunk and bat, were discovered in May.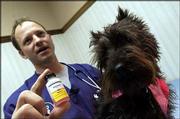 A dog was found to have rabies in 2000, and two skunks were discovered with the disease in 1999. No cases were reported in 2001, 1998 and 1997.
Lawrence Animal Control officers responded to five incidents involving rabid skunks or bats last year, the only year statistics were immediately available, Supervisor Steve Horneberger said.
Last year tissue samples from 120 skunks statewide tested positive for rabies -- by far the highest number of all animals tested by the KSU lab.
The rate of rabies in skunks concerns Pete Haley, owner of Haley Pest Control, 800 Comet Lane. Haley responds to requests to capture wild animals such as skunks and raccoons. He uses cages with bait to capture them alive; in most cases, he releases them out in the country.
"Generally we don't put them down," Haley said of skunks and other animals. "People don't like to hear that an animal is going to be killed. But I might have to rethink that policy. If a skunk has rabies, you don't want it going and crawling under another house."
Skunks are especially active in January and February, their mating season, Haley said.
State officials said that people were exposed in several of the 21 cases of rabies in Kansas last month. Anyone who is exposed to rabies must get a series of five shots, said Barbara Schnitker, director of nurses at the Douglas County Health Department.
Those shots are no longer as painful as in the past, when they had to be given in the stomach, Schnitker said. Now they are given in the arm.
"It's important for people not to go up and pet strange animals," Schnitker said. She noted that just coming in contact with a rabid animal's saliva was enough to require shots.
People who work around animals, such as veterinarians, generally get a pre-treatment of three shots during a month, Schnitker said.
Pets also should get their rabies shots on a regular basis, health officials said.
Copyright 2018 The Lawrence Journal-World. All rights reserved. This material may not be published, broadcast, rewritten or redistributed. We strive to uphold our values for every story published.