Cleanup operations began Tuesday at the Lawrence Community Theatre building after a Monday night fire destroyed thousands of costumes in a basement clothing storage room.
Many of those costumes were vintage 1940s and 1950s clothing that will be hard to replace, said Mary Doveton, theater director. A large number of men's tuxedos also were lost, she said.
"A lot of things are going through that window and out to the Dumpster," Doveton said, as volunteers picked up the remains of costumes that couldn't be used anymore and passed them out the basement window.
Other volunteers scooped up the ashes that covered the storage room floor. A private company arrived at midday to begin repairing smoke and water damage.
The fire will not affect the theater's next production, "Nurse Jane Goes to Hawaii," set to debut Jan. 23, Doveton said.
The cause of the fire was still under investigation Tuesday. It was not a suspicious fire and arson is not suspected, said Mark Bradford, Lawrence-Douglas County Fire & Medical deputy chief.
The fire department estimated damage at $15,000, but Doveton said she wouldn't be sure what the total damage costs would be until she meets with insurance adjusters.
The fire was discovered and reported about 7 p.m. as two women arrived to rehearse for the "Nurse Jane" play.
Jennifer Brown said she was sitting in her truck when she noticed an orange flickering in one of the basement windows. She and another woman there for rehearsal, Aisha Wolgamott, walked up to the window.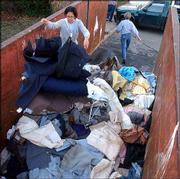 "It definitely looked like a fire," Brown said. "We touched the glass, and it was warm."
They then called the fire department.
"I was just glad that nobody was hurt and nobody was in there," Brown said.
This is the first fire at the 1501 N.H. building since it became the Community Theatre in 1984, Doveton said. The building was originally a church built in the late 1950s, she said.
Community Theatre plays are performed by amateur actors from the area.
"I want to commend the fire department," Doveton said. "They were here right away and put it out very fast."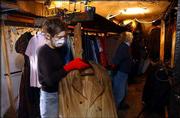 Copyright 2018 The Lawrence Journal-World. All rights reserved. This material may not be published, broadcast, rewritten or redistributed. We strive to uphold our values for every story published.