Bam, Iran — Hopes of finding more earthquake survivors in Iran's ancient city of Bam faded Sunday as the sharp, foul smell of death permeated the pulverized rubble where mud-brick houses became instant tombs for more than 20,000 people.
Rescue workers from around the world joined Iranians in searching through powdery debris that left little room for air pockets, which could allow people to survive while awaiting help.
More than 20,000 bodies, including one American killed while visiting the city's 2,000-year-old citadel, have been retrieved since Friday's 6.6-magnitude earthquake shook the city and surrounding region in southeast Iran, a local government spokesman said.
Another 10,000 people were hospitalized, the spokesman Asadollah Iranmanesh said. Other officials have expressed fears that the death toll could rise as high as 40,000.
Only one man was pulled alive from the rubble Sunday, Iranmanesh said. A day earlier, officials reported freeing 150 survivors.
"We have not lost hope for survivors, and our priority remains to find them," Interior Minister Abdolvahed Mousavi Lari said.
Later, he told reporters that the search for survivors would probably end tonight: "Tomorrow is the last hope."
Experts say that 72 hours is generally the longest people can survive if they are trapped in rubble. Sunrise today is Bam's 72-hour mark.
Planes from dozens of countries landed in the provincial capital of Kerman with relief supplies, volunteers and dogs trained to find bodies and survivors. U.S. military C-130 cargo planes were among them, despite long-severed diplomatic relations and President Bush's characterization of Iran as being part of an "axis of evil" with Iraq and North Korea.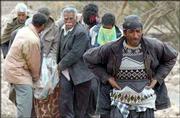 Interior Minister Lari said Iran accepted U.S. government help and not Israeli help because Tehran considers the United States a legitimate government, but opposes Israel for its actions against Palestinians in the West Bank and Gaza Strip. Israel "is a force of occupation," he said.
As for Americans, Lari said. "I believe it is possible that they have a humanitarian sensibility in such a dramatic situation."
In addition to an American team, rescuers, supplies or pledges of aid arrived from Italy, Austria, Azerbaijan, Britain, Finland, Germany, Russia, Turkey and dozens of other nations.
The United States arranged an airlift of 150,000 pounds of food, water and medical supplies. Four military planes flew into the country from Kuwait.
"The reception was beyond expectations," said U.S. Air Force Master Sgt. Jeff Bohn, who was on the first plane. "The warmth that the Iranian military and civil aviation workers gave us was truly incredible."
Copyright 2018 The Associated Press. All rights reserved. This material may not be published, broadcast, rewritten or redistributed. We strive to uphold our values for every story published.