Chongqing, China — Villagers were preparing for sleep when the gas well burst with a bang. Then came choking fumes. Families dashed out of their homes in terror, struggling to breathe in the searing cloud.
Survivors and state media gave harrowing accounts Friday of the disaster that killed at least 191 people in China's southwest, forced 41,000 to flee and left a 10-square-mile "death zone" strewn with bodies lying in fields, by the sides of roads and in homes.
"I heard a roaring sound like huge flames and I smelled something burning," said Xiao Ninghu, a 33-year-old farmer reached by telephone at the school where he and other evacuees were staying. "I was in a panic. I was so frightened."
Technicians were preparing to try to plug the well at the Chuandongbei gas field in the town of Gaoqiao, northeast of Chongqing. Work was to have begun Friday but was postponed until today while officials focused on getting food and water to the tens of thousands of evacuees from the remote, mountainous area who were living in schools and government buildings.
Some 9,185 people were treated for gas poisoning and other injuries, and 431 were still hospitalized -- 17 in critical condition, the official Xinhua News Agency said. Newspaper photos showed children with red faces and their eyes swollen shut from chemical burns.
The blowout -- caused when a drilling accident broke open a gas well Tuesday night, according to Xinhua -- poured out a toxic mix of natural gas and hydrogen sulfide.
The poisonous gas turned an 10-square-mile area into a "death zone, as many villagers were intoxicated by the fumes in their sleep," the China Daily newspaper said.
A reporter for the Shanghai Morning Post newspaper wrote an account of entering the hard-hit village of Xiaoyang, which abuts the gas field, and seeing at least six bodies.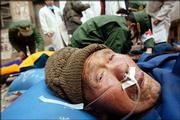 Copyright 2018 The Associated Press. All rights reserved. This material may not be published, broadcast, rewritten or redistributed. We strive to uphold our values for every story published.