San Bernardino, Calif. — Searchers slogging through waist-high muck found seven people dead Friday and looked for at least nine others missing after mudslides engulfed two camps in the San Bernardino Mountains in a terrifying torrent of soil, boulders and tree trunks.
The mudslides were set off on Christmas Day after a downpour fell on hillsides that had been stripped of vegetation by wildfires in October and November. With nothing to hold the soil in place, trees and rocks went roaring down the hillsides, along with the dark-brown mud.
"I thought I was going to die," said Brian Delaney, 19, who was trapped up to his neck before rescuers pulled him out of the mud that crashed into the recreation center at a trailer-home encampment in Devore.
Two bodies were found near the trailer camp, San Bernardino County authorities said, and 32 trailers were destroyed. No one else was missing there, said Sheriff's Deputy Kris Phillips.
Five bodies were found below a Greek Orthodox retreat, the Saint Sophia Camp. Twenty-eight people were believed to have been spending Christmas Day with the camp's caretaker when the wall of mud swept away two buildings on one side of the camp. Fourteen of the people were rescued on Christmas Day.
Finding people caught in the mudslides was time-consuming because victims could have been washed far down the canyon, Sheriff's spokesman Chip Patterson said.
"The area is so big. There was so much water, so much force. We're talking about a massive flash flood that has gone miles even," Patterson said.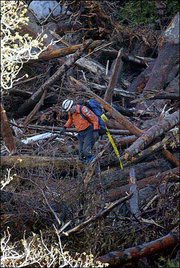 Patterson cautioned that it was not certain that the bodies recovered in Waterman Canyon were from the camp. The coroner's office was trying to identify the bodies Friday night.
Most structures at Saint Sophia Camp, built on a plateau at the upper end of the canyon, were unscathed. A bench was left sticking out of the muck, and a swing set lay on its side.
"These folks had no warning," said county fire spokeswoman Tracey Martinez. "It just happened. According to the survivors we've spoken to they didn't even know it was coming until it was there."
Temperatures fell rapidly at dusk and the National Weather Service issued a frost advisory for the region. Patterson said the search would go on through the night.
"We have no reason to think we can't find survivors and I hope we will," Patterson said.
Copyright 2018 The Associated Press. All rights reserved. This material may not be published, broadcast, rewritten or redistributed. We strive to uphold our values for every story published.