Baghdad, Iraq — Rebels unleashed a string of grenade, rocket and mortar attacks in Baghdad before dawn on Christmas Day, hitting a hotel housing foreigners for the second time in as many days and targeting two banks, several embassies and a U.S. Army base.
Thursday night, several explosions were heard in central Baghdad, and sirens sounded in the Green Zone, a barricaded area that houses the headquarters of the U.S.-led coalition. A U.S. military spokeswoman said there were "two to three impacts in the vicinity of the Green Zone," but no casualties were reported.
Japan, meanwhile, dispatched its first military unit for a humanitarian mission to Iraq early today, spearheading the country's biggest overseas deployment since World War II.
An advance air force contingent of more than 40 personnel left for Iraq. Nearly 1,000 more personnel will follow on a mission to help restore the country's infrastructure.
The morning's strikes on prominent targets had more symbolic than military impact; two civilians -- a woman and her daughter sleeping in an apartment -- were injured, and damage was limited.
U.S. forces had increased security in the capital after threats of attacks over Christmas, but the strikes showed how easily small bands of rebels operate under cover of night in the city center, and then slip away. They were a blow to American efforts to restore a sense of normalcy in a city where few people venture out after dark, for fear of violence.
At the same time, the furtive, hit-and-run operations revealed the inability of rebels to confront the superior firepower of U.S. soldiers. They also inflicted far less damage than attacks by suicide bombers in recent months that killed dozens of people at embassies, police stations and the United Nations headquarters in Baghdad.
Such targets are now more heavily defended and harder to hit. There are also fewer "soft" targets, with the United Nations pulling out foreign staffers and many foreign aid workers also departing because of security concerns.
The Christmas violence came after assailants conducted the deadliest attacks since the Dec. 13 capture of Saddam Hussein, triggering a series of explosions Wednesday that killed four U.S. soldiers, six civilians and a suicide bomber.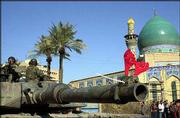 As of Wednesday, 464 U.S. service members have died since the beginning of military operations in Iraq, according to the Department of Defense. Of those, 317 died as a result of hostile action and 147 died of nonhostile causes, the department said. The department did not provide an update Thursday.The British military has reported 52 deaths; Italy, 17; Spain, eight; Denmark, Ukraine and Poland have reported one each.
Copyright 2018 The Associated Press. All rights reserved. This material may not be published, broadcast, rewritten or redistributed. We strive to uphold our values for every story published.