Beijing — Crews put off trying to plug a burst natural gas well in southwest China until Saturday after the leak of toxic fumes left nearby villages full of bodies. At least 191 people were killed, nearly 300 injured, and more than 41,000 forced to flee their homes, the Xinhua news agency reported.
Disaster officials feared the death toll could rise as 20 special teams combed the area near the gas field looking for survivors and more victims, Xinhua reported. It said the effort to seal the well was put off to let officials focus on rescue efforts.
Relief officials were rushing food and water to 41,000 people who were evacuated from homes within three miles of the remote, mountainous area around the gas field run by a government-owned oil company.
Rescue workers had been prevented from entering the area immediately after the well erupted Tuesday night in a gas field in the town of Gaoqiao because they lacked the proper equipment and the fumes from the deadly mix of natural gas and hydrogen sulfide were too strong, Xinhua reported.
The mountainous terrain and muddy roads also made it difficult for villagers to flee and hindered rescue work and communications, Xinhua said.
When disaster teams finally entered the area Thursday, they made one grisly discovery after another, finding villages full of bodies, the agency said. The death toll steadily mounted through the day, and 191 people were confirmed dead as of this morning, Xinhua said.
President Hu Jintao and other Chinese leaders ordered local authorities to "go all out to rescue victims, prevent poisonous gas from spreading further and reduce casualties," Xinhua said.
The cause of the disaster at the Chuandongbei gas field wasn't clear.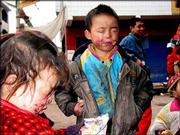 Copyright 2018 The Associated Press. All rights reserved. This material may not be published, broadcast, rewritten or redistributed. We strive to uphold our values for every story published.