Topeka — Eight more Kansas counties -- including Douglas and Franklin -- would be declared federal drought disaster areas under a request made Monday by Gov. Kathleen Sebelius.
State officials say dry conditions have reached disaster status in 92 of 105 counties.
If the request is approved by the U.S. Department of Agriculture, farmers in the disaster areas would be eligible for low-interest loans. After several years of tough conditions, the help would be welcome.
"We need it pretty bad," said Mike Wintermantel, a farmer in southern Douglas County. "Things are pretty lean."
In addition to Douglas and Franklin counties, Sebelius requested that Edwards, Gove, Lyon, Morris, Pawnee and Pratt counties be declared drought disaster areas.
In October, she asked for federal declaration in 73 counties, which state officials say is expected soon. Eleven Kansas counties, stretching along the Oklahoma border from Chautauqua to Morton counties, received disaster declarations earlier.
"Ongoing drought caused production losses as high as $275 million this year," Sebelius said. "Drought disaster designations and low-interest loans help those farmers who are being pushed to the brink by yet another year of drought."
Like much of the state, Douglas County has been on a roller coaster when it comes to moisture.
Abundant spring rains raised hopes and plants, which were later knocked down by a scorching, dry summer.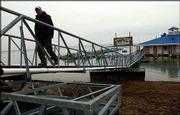 Wintermantel, who farms about 1,400 acres, said, "As far as income off the corn and soybeans, it was slim and none."
He said the ground needed a lot of moisture this winter to saturate the soil.
"They claim that we are drier now than in the 1930s," he said.
In Douglas County, crops have produced from $13.5 million to $19.5 million annually over the past five years, a far cry from the $29.5 million worth of crops raised in 1997, officials said. The main crops in Douglas County are soybeans and corn.
"I'm certain our subsoil moisture is not where we would like to have it," said Bill Wood, Douglas County extension agent for agriculture. "Going into the spring, we would like to see our soil profile full down three or four feet. That way if you hit dry weather, you have enough to carry your crops for a while," he said.
Copyright 2018 The Lawrence Journal-World. All rights reserved. This material may not be published, broadcast, rewritten or redistributed. We strive to uphold our values for every story published.