Reno, Nev. — You CAN get there from here. To Orlando, Fla., that is. But I know of only one person doing it.
When the Kansas University football team was selected for the Tangerine Bowl, several media folks who cover the Jayhawks -- yours truly included -- groaned because they already had made travel plans to cover the men's basketball team at the Wolf Pack Classic in Reno.
With the tipoff for the Jayhawks' Sunday game against Nevada University scheduled only about 21 hours before Monday's Tangerine Bowl kickoff in Orlando, how could the media possibly travel the 2,500 or so miles to Florida in that tight a time span?
Even Bob Davis and Max Falkenstien, who broadcast both football and men's basketball on the Jayhawk Network, couldn't be in both places, so they skipped Reno to describe tonight's football game.
As mentioned, though, at least one person was at Sunday night's KU-Nevada game and will be in Orlando -- hopefully -- for the Tangerine Bowl.
Mitch Germann, KU's sports information director, left the Lawlor Events Center late Sunday night, planned to grab a few hours sleep, then was scheduled to board an America West Airlines flight at 6:15 a.m. PST today for Phoenix. After a short layover, he will then enplane on a non-stop flight to Orlando. His ETA is 3:48 p.m. EST, or less than two hours before kickoff.
"I'll cab from the airport to the game and dump my bags in the press box," Germann said.
We're all keeping our fingers crossed Germann makes it, and at the same time we're hoping the long journey won't leave him feeling like a slab of cargo once he finally arrives at Florida Citrus Stadium.
As you would expect, the Tangerine Bowl isn't big news in Reno, but it is at least newsworthy among the sports books at the many casinos in this mini-Las Vegas.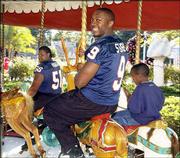 A poll of six of those sports books published by the Reno Gazette-Journal surprised me. Kansas is a heavy 11- to 11 1/2-point underdog to North Carolina State, yet two-thirds of those sports books suggest betting on the Jayhawks.
One of the local oddsmakers, John Pinto of the Silver Legacy Casino, was quoted as saying, "With an underrated Bill Whittemore healthy, this line should be more like three or four. Take the points."
Eric Brownlee of the Club Cal Neva likes Kansas, too, telling the Reno newspaper, that N.C. State "hasn't lived up to expectations."
However, Tom Sullivan of the Reno Hilton called N.C. State "a quality team. Kansas was 5-6 against Division One teams."
Ah, but you could counter that gloomy assessment by noting that four of the Jayhawks' six losses were to teams in bowl games -- Northwestern (Motor City), Kansas State (Fiesta), Oklahoma State (Cotton) and Nebraska (Alamo).
The inevitable rebuttal would be that the only bowl-bound team Kansas defeated was Missouri (Independence) and that two of the five Wolfpack losses were in overtime to BCS bowl teams Ohio State (Fiesta) and Florida State (Orange).
If you're wondering about Missouri, five of the six Reno sports books like the Tigers to spill Arkansas on New Year's Eve in Shreveport, La. "Brad Smith is all you need to know," one of the oddsmakers said.
At the same time, only two of the oddsmakers like Kansas State to beat the six-point spread against Ohio State, mostly because they expect a letdown following the Wildcats' stirring 35-7 win over Oklahoma in the Big 12 Conference championship game.
What all of these manufactured insights prove, of course, is that nobody really knows a darned thing, that even the so-called experts are really just guessing. I don't know if anyone has done a survey over the years, but it seems to me the heavy underdog wins as often as the favorite in bowl games.
Taking that supposition into consideration, I think the Jayhawks have a decent shot tonight at winning a postseason game on the mainland for the first time since a John Hadl-led KU team dumped Rice in the 1961 Bluebonnet Bowl.
Copyright 2018 The Lawrence Journal-World. All rights reserved. This material may not be published, broadcast, rewritten or redistributed. We strive to uphold our values for every story published.