Lecompton — Tim McNish smiles when he thinks about his town's new City Hall, relocated fire station and soon-to-be-installed water well.
But his chest swells with pride at the thought of a much smaller project: the new wooden post that replaced an old, rusted-out pole that supported pale street signs at Seventh and Whitfield streets.
"They'd faded and looked trashy," said McNish, who lives down the street. "Now it's presentable."
The new set of signs -- one of several installed earlier this year -- are among the visible signals Lecompton is cleaning up its act, as officials and landowners push to attract government grants and private investment to town.
Disappearing are the junk cars, abandoned appliances and unused agricultural buildings that once lined the streets of the sleepy town of about 600 residents 10 miles northwest of Lawrence.
Instead, residents are busy painting houses, clearing yards and otherwise brightening their properties, from residences to businesses. The city is resurfacing streets and expanding services -- right down to a new drop-slot for water bills at the new City Hall.
'A little more pride'
It's a welcome change for many residents in a town that was founded nearly 150 years ago as Bald Eagle, and in 1855 had become the state's territorial capital.
Behind the current leadership of Mayor Roy Paslay and a City Council committed to cleaning up the place -- a handful of blight notices have promoted the removal of refrigerators from porches, and junk metal from yards -- some residents elsewhere in town aren't the least bit worried about the cost of investing in their community.
Larry Anderson is doubling the size of a home he inherited last year from his mother. The place will get two new bedrooms, a bathroom, living room, kitchen and laundry area, plus a two-car garage.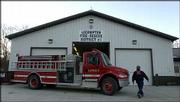 The bill: $80,000.
The feeling: Confident.
"People are taking a little more pride in our town now," said Anderson, a former communications consultant who has lived in town for all of his 54 years. "The council, they've done a really good job getting the civic pride going. We've got a great location, between Lawrence and Topeka. I know we can get our money out of it, if we ever have to."
New buildings
Governments have been stepping up their investments in recent years.
Earlier this year, the city finished its new City Hall, a $55,000 project to renovate an old garage that used to be home to Lecompton's city fire department. The building looks like an old-time storefront, complete with a smiling Santa Claus out front.
Lecompton Fire & Rescue District No. 1 is putting the finishing touches on its new $205,000 station, a five-year project that has plenty of room for growth. The 20-volunteer department even added a shiny new Freightliner pumper truck this year, a $108,000 investment in the future.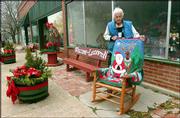 Chief LeRoy Boucher, who has led the department since 1995, watches developers eye land in and around town, poised to build homes appropriate for people who work in Lawrence and Topeka. He knows J Stewart's plans for hundreds of new homes south and east of Lecompton could elevate the town's population, and profile.
Seeking grants
Boucher figures he may as well be ready.
"You can do one of two things," he said. "You can sit idle and let the world pass you buy, which Lecompton used to do for a long time. We used to have a high school, we used to have a junior high school and now we have four grades in a grade school; everything else is in Perry. You can let the world go by and the next thing you know you have nothing.
"Or, you can look to the future and be a part of something. And people are starting to do that. You've got to look ahead. We've got to move."
Among the visions: An expansion and upgrade for the city's water system, and a restoration of the city's community building.
Such projects take money -- the filtration systems and other needs at the water plant alone could soak up $500,000 -- and council members are hoping to land some financial help from state government.
The state rejected Lecompton's grant proposal last year for building an aquatic center, but officials are hoping the recent upgrades in town will bolster their applications in Topeka.
"If they see that the town's all picked up -- not all trashy and everything -- it ought to help when we go to the state for money for projects," said Mark Tunstall, a City Council member who's picking out new paint for his own house. "People are wanting to keep things a lot cleaner and nicer. They're just taking pride in their community and their city."
Clean slate
Bill Leslie has seen it coming.
The 77-year-old farmer lives just inside the city limits at the southern edge of town. And his home, built in the 1880s, looks like it could last 100 years more.
Gone is the old chicken house out back, leaving a pile of limestone to be used for landscaping. The old, rusted barbed-wire fences are gone, replaced with updated metal. The house itself sports a fresh $10,000 coat of vinyl siding.
Then there's the neighbor who built a new garage, and the old place across the street that was torn down.
Everywhere Leslie looks, it seems, the future seems bright.
"We've come a long way," said Leslie, who still owns 160 acres at the edge of town. "When I was a kid most everybody in town had maybe a hog or two, maybe a cow or two, and they'd have a bunch of old pens and stuff around. Manure stacked up. Old barns, the sides pushed out of 'em. Today, those are all gone.
"It's all cleaned up. That's all I can say."
Copyright 2018 The Lawrence Journal-World. All rights reserved. This material may not be published, broadcast, rewritten or redistributed. We strive to uphold our values for every story published.