Orlando, Fla. — Bill Whittemore and Mark Mangino will take one last step together today at the Tangerine Bowl.
The quarterback who helped revive Kansas University's football program and the coach who recruited him both hope it's a move forward for themselves and the team to which they've devoted two years of their lives.
"It's my last game at Kansas," said Whittemore, KU's senior co-captain. "I'd like to go out with a win and have fun while we're doing it."
A victory today against North Carolina State (7-5) would give the Jayhawks (6-6) their first winning season since 1995.
It also could be the best opportunity for Whittemore -- who has suffered serious injuries in each of the last four seasons -- to prove he deserves a shot at a pro career.
Tangerine Bowl officials said they had issued credentials for eight NFL scouts, one Canadian Football League scout and two from the Arena League.
"He could make some general manager look really smart in the National Football League. He's not the biggest guy. He's not the fastest, but he might be one of the best competitors I've been around, and I've been around some competitors at his position -- including one that won the Heisman this year," said Mangino, who worked with Heisman Trophy winner Jason White while an assistant coach at Oklahoma before coming to KU after the 2001 season. "Bill has the ability to make plays and get things done. Here's my advice about Bill Whittemore -- never count him out."
Against the odds
The oddsmakers already have. N.C. State is a double-digit favorite, but Whittemore has always been a long shot. He was the Tennessee high school player of the year in 1998, but Division I-A schools overlooked the 6-foot, 205-pound Whittemore. He settled for a scholarship at Division I-AA Tennessee Martin, but later moved on to Fort Scott Community College with hopes of another shot at major college football.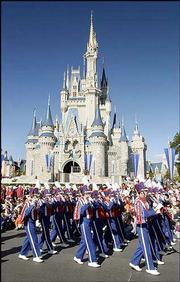 At Fort Scott, Whittemore passed for 2,082 yards and 16 touchdowns and was named MVP of the Jayhawk Conference as a sophomore, but he suffered a shoulder injury late in that 2001 season and major college recruiters once again looked the other way.
Enter Mangino, who was desperate for help in the early stages of rebuilding a downtrodden KU program.
"He had faith in me," Whittemore said. "When I got here I still couldn't throw. He saw something in my competitiveness that he knew I'd be able to come back from it. It means a lot that he would take a chance on me and give me that opportunity."
Now Mangino hopes someone else will give Whittemore a chance. The quarterback was Big 12 Offensive Newcomer of the Year last season, and he set a school record with 16 touchdown passes this season.
But a knee injury ended Whittemore's junior season three games early, and a collarbone injury cost him three games and most of another this year.
"You don't understand what Bill has done for our program unless you've been with us every day," Mangino said. "He suffered two serious injuries, and he was able to come back and get himself ready to go this season. He suffered another injury his senior year.
"A lot of kids would have given up. We're talking about a guy who loves to play the game. To understand where Bill Whittemore is coming from really makes him that much more special to Kansas football."
Seizing today's moment
Whittemore said he knows the knock against him is "too small and too beat up."
When healthy, he has been dangerous. Whittemore has passed for 2,142 yards and ranks 11th nationally with an average of 288 total yards per game.
The 4:30 p.m. game today will have a national television audience on ESPN, meaning Whittemore and the Jayhawks will be seen by more than a few scouts in the pressbox.
"Somebody ought to give him a chance," Mangino said. "He's worth taking a look at. He has skills they look for in the NFL. Forget about his height. ... He makes plays. He's smart. He has the competitive nature you need to play in that league."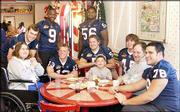 Mangino has said all season that one game won't "make or break" his program, and he stuck to that mantra Sunday.
"How much winning the game will affect our program, I'll put it to you like this: Winter workouts won't seem nearly as tiring," he said. "Spring ball won't seem nearly as tough. Summer workouts -- when 100-degree weather hits the Great Plains, our kids will feel like it's 60. In that sense, it helps.
"As far as the program, this is just another challenge, another opportunity for us to improve. That's what we're trying to do. It's another stepping stone."
Copyright 2017 The Lawrence Journal-World. All rights reserved. This material may not be published, broadcast, rewritten or redistributed. We strive to uphold our values for every story published.