Orlando, Fla. — After an eight-year drought, Jayhawk football fans on Sunday finally got a taste of the atmosphere surrounding a bowl game.
Several hundred Kansas University fans gathered Sunday night in downtown Orlando for the Tangerine Jam, a joint pep rally with opponent North Carolina State followers that served as the fan kickoff for today's Tangerine Bowl.
The music blared. The beer flowed. And Jayhawk pride soared.
"It incites your school spirit because you have the opposing school's fans right there," said Cole Gray, a KU senior from Atchison, Kan. "We're getting excited. We're looking forward to getting to the game."
Organizers said about 600 people attended the rally. N.C. State fans outnumbered KU fans 2-to-1 early on, though more KU fans stayed toward the end of the event.
Much of the rally pitted opposing fans against each other in chanting, trivia and tangerine juice-drinking contests.
"This has been really exciting," said Alyssa Hill, a Lawrence, Kan., senior and member of the dance team. "We feel like (athletic director) Lew Perkins is really supporting us, having all the Spirit Squad, the band and the flag team here."
It was the band that stole the show Sunday afternoon in a performance at Walt Disney World.
The KU band -- including the Spirit Squad, Big Jay and Baby Jay mascots -- was featured marching down Main Street USA, the principal drag at the Magic Kingdom park. It played a march version of "Good King Wenceslas" for the thousands of tourists who lined the street.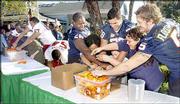 The band opened for the main attraction, Mickey's Very Merry Christmas Parade.
"It was a blast, a lot of fun," said Daniel Meyers, a freshman trombone player from Lawrence, Kan. "I never expected for my freshman year to go to a bowl game. It's definitely one of the best parts about being in band."
The band was a hit with at least two KU grads in the audience.
Amie Gorrell and Shelly Peterson were racing around the Magic Kingdom, ducking in and out of buildings to see as much as they could of the band.
It's not every day their alma mater's band plays at their "office" -- the 30,000-acre Disney theme park.
"It's been four years since I've seen a Jayhawk," Gorrell said as she snapped photos. "I'm so excited."
Gorrell, who graduated in 1999, works in Disney's publicity office. Peterson, who graduated in 1997, works at Disney with travel agents.
They hadn't met before last week, when Gorrell put a note on Peterson's car -- which has two KU license plates and two KU stickers -- asking if she was interested in going to the game.
The band also was a highlight of the day for Rudy Fleshman, a 63-year-old KU fan from Dearborn, Mo. He said he couldn't miss out on the opportunity to travel to Orlando for the game.
"At my age, you never know if you'll be able to go again," he said. "They've improved so much, I wanted to be part of the festivities."
After several days of a Kansas-like chill in the air, the weather in Orlando warmed to the mid-60s Sunday. The temperature for today's 4:30 p.m. game is expected to be in the lower 70s.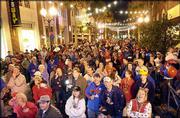 Elizabeth Tucker, a Baker University freshman who dates John Wickersham, a marching band member, was among those who were rooting for warmer temperatures as the end of her vacation approached.
"There's all this Christmas music and the warm weather," she said. "I'm not sure what to think."
Copyright 2018 The Lawrence Journal-World. All rights reserved. This material may not be published, broadcast, rewritten or redistributed. We strive to uphold our values for every story published.