Minneapolis — The Minnesota Vikings gave a big boost to their postseason hopes and their confidence, playing the part of a desperate team perfectly Saturday.
Onterrio Smith ran for 146 yards and three touchdowns, and Randy Moss caught two of Daunte Culpepper's three scoring passes in a 45-20 victory over the frustrated Kansas City Chiefs -- whose chances for home-field advantage in the AFC playoffs were dealt a blow.
"It was huge for our psyche, huge for our season," said Culpepper, who completed 20 of 29 passes for 260 yards and one interception against the Chiefs.
Minnesota, which opened the season with six straight wins and is now 9-6, moved a half-game ahead of Green Bay in the NFC North race.
"If we want to keep playing into January, we needed to come out with a win," said Vikings free safety Brian Russell, who intercepted Trent Green twice.
Moss, playing with his puffed-out afro protruding from his helmet, had seven catches for 111 yards after letting Chicago rookie Charles Tillman rip the ball away from him in the end zone last week on the deciding play of the Bears' 13-10 victory.
"I knew he was going to play well as soon as I saw the hairdo," said Minnesota coach Mike Tice, who pumped his fist at the crowd several times throughout the game. "It didn't matter who covered him today. Nobody was going to cover him."
Priest Holmes, held to 55 yards rushing and 50 yards receiving, scored three times for Kansas City and matched Emmitt Smith's 1995 NFL record with 25 rushing touchdowns in a season.
The Chiefs (12-3), who have wrapped up the AFC West and their first playoff berth since 1997, still can clinch a first-round bye if Indianapolis loses to Denver today. But Kansas City's goal of getting the top seed and securing the home-field advantage in the playoffs took a big hit.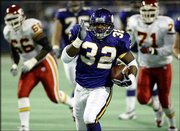 "We know we have one game to go, and we know what's at stake," Holmes said. "As a team, we'll do all we can to pull it together."
The Chiefs' emotions boiled over after the game, when defensive linemen Eric Hicks and Ryan Sims were shouting at each other. Team officials quickly ordered a crowd of reporters out of the room.
"There were guys in there having a disagreement, and I don't know what it was over," Green said. "Everybody's frustrated. We anticipated coming up here and playing better."
Minnesota held the NFL's top-scoring offense in check for most of the game, limiting tight end Tony Gonzalez to 65 yards and no touchdowns and holding Dante Hall to a long return of 21 yards.
Green was 18-for-38 for 224 yards for Kansas City, which failed to score in the first half for the first time this season and trailed 31-0 midway through the third quarter.
"Maybe I was naive, but I thought we could come up here and play them toe-to-toe," Chiefs coach Dick Vermeil said. "Obviously, we could not. They were by far the superior team today."
A win at Arizona next week gives Minnesota the division title, regardless of what Green Bay does.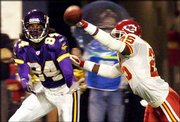 But the Vikings can also clinch this weekend if the Packers lose to Oakland Monday night and two of the following three scenarios occur today: Detroit beats Carolina, Washington beats Chicago and Pittsburgh beats San Diego.
The Chicago loss dropped the Vikings into a tie with the Packers (8-6). That forced the Chiefs to play another team with everything to lose. Two weeks ago, Denver kept its wild-card chances alive with a 45-27 victory over Kansas City.
"At some point," Green said, "it looks like we're going to have to go on the road and win a playoff game."
The Vikings needed only eight plays to drive 92 yards on the NFL's 28th-ranked defense -- one that has allowed an average of nearly 30 points over the last six games. Moss' 16th touchdown reception of the season, a 30-yarder, gave Minnesota a 7-0 lead.
Then a costly fumble call kept Kansas City from gaining any momentum. Green completed a 32-yard pass to Eddie Kennison, who had the ball punched out along the sideline by Brian Williams. Brian Russell, who had both interceptions, recovered at the Vikings' three.
A challenge by Vermeil that Kennison stepped out of bounds before the fumble was overturned, but replays showed Vermeil challenged the wrong thing. Referee Ron Blum admitted a mistake after the game, since Williams came from out of bounds and illegally touched the ball.
Notes: Hall, who hasn't returned a kick for a score since Oct. 5, left in the third quarter with leg cramps. "I was cramping everywhere," he said. ... Smith became the first Vikings rookie to rush for 100 yards in consecutive games.
Copyright 2018 The Associated Press. All rights reserved. This material may not be published, broadcast, rewritten or redistributed. We strive to uphold our values for every story published.