After comfortable wins against Free State High in the last four city basketball showdowns, the Lawrence High girls scrapped past a fearless Firebird squad before making their streak reach five.
The Lions (2-1) led by double digits for most of the first half, but saw their lead whittled to four multiple times before escaping with a 53-46 victory Friday night in front of a capacity crowd at the FSHS gym.
"We certainly didn't play pretty," LHS coach Kristin Mallory said. "It's an ugly win for us, but you've got to take those sometimes."
And Mallory knows as well as anyone that, pretty or not, a win in the city showdown is all that matters. That's why there were downtrodden spirits in the Free State locker room.
A good start to the season already exorcised the demons from last year's 4-17 campaign, but beating Lawrence would've meant even more to the Firebirds (2-2).
"I don't know if anyone else believed it," FSHS coach Bryan Duncan said. "but everyone in our locker room all week expected to win. We weren't going to settle for playing hard. Honestly, I'm very disappointed. I think our girls are, too."
Duncan said Lawrence's exploding to an 18-6 lead in the first quarter set up the loss. The Firebirds came out flat, while LHS was running and gunning. Josie Polk buried a pair of threes, and Erin Knight nailed two 16-footers as the Lions hit 8 of their first 13 shots.
Lawrence got sloppy in the second quarter, largely because Free State picked up its defensive pressure. LHS turned the ball over on its first five possessions of the quarter while the Firebirds went on a 10-2 run. Polk drained another trey and Cherrale Ricks knocked in two jumpers that rebuilt the Lions' cushion to 29-18 at halftime.
"We were rushing a few things and weren't being very patient," LHS center Megan Klingler said, explaining the Lions' second-quarter sputter. "We realized it and saw that they were shutting us down, so we had to start taking our time and set up some plays instead of trying to drive it so much."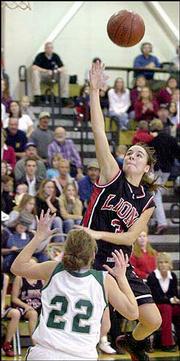 The Lions adjusted, but Free State kept coming. Emilie Humbarger's three-pointer sparked a 9-2 run that pulled FSHS to 31-27 midway through the third quarter.
With Ricks and sophomore point guard Drew Huff battling foul trouble, LHS turned to Klingler for support. The 6-foot junior scored all 10 of her points in the second half and was the buffer the Lions needed.
Lawrence pushed its lead to 51-41 with 1:56 remaining, but the Firebirds rallied one more time. Senior Jamie Stanclift sank two free throws and Humbarger nailed another three-pointer, trimming the deficit to 51-46.
Polk put the game away with a pair of free throws, capping her game-high 23-point performance. Ricks added 8 points and 8 rebounds for the Lions. Humbarger and Lauren Abney led Free State with 10 points apiece, while Banaka Okwuone added 5 points and 10 rebounds.
"We couldn't do things defensively that we've been able to do in the past," Mallory said. "We were tired and we weren't able to press because of foul trouble, but we stepped up in the end, made some big shots and hit some big free throws. It certainly wasn't how we planned it, but we'll take it."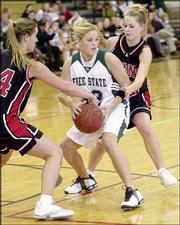 Copyright 2018 The Lawrence Journal-World. All rights reserved. This material may not be published, broadcast, rewritten or redistributed. We strive to uphold our values for every story published.