Darmstadt, Germany — The Beagle 2 Mars probe successfully detached Friday from its mother ship, a critical maneuver that put the European spacecraft on track for a Christmas Day landing on the Red Planet.
The unmanned probe, named for the ship that carried naturalist Charles Darwin on his voyage of discovery in the 1830s, will explore the Martian soil to determine whether it ever supported life.
After it parachutes through the atmosphere and uses inflatable gas bags to bounce to a soft landing, the 143-pound probe will flip open and begin scratching the surface with a robotic arm.
Meanwhile, the Mars Express mother ship will orbit 250 miles above, using a powerful radar to look for layers of water or ice. The spacecraft also will relay data from the Beagle 2 back to mission control.
"It's not looking for little green men, but it is looking for matter that might provide evidence of life. It is looking for clues," said David Southwood, the European Space Agency's director of science.
Pictures beamed back Friday from the Mars Express showed Beagle 2 as a small white disk slowly moving away against a black background littered with stars -- final confirmation that the probe had been successfully sent spinning toward Mars.
The maneuver involved a series of 115 commands that included turning Mars Express away from Earth, causing it to lose contact with mission control for about two hours. It was only after screens in the control room began flashing red in confirmation that the engineers' tension melted into relief and excitement.
"Mother and baby are both doing very well," a smiling Southwood announced. "But we've got to wait until Christmas Day to make the next major step."
He said the Beagle 2 was equipped with "scratch and sniff" devices, which will collect soil samples, heat them and "sniff to see what comes off."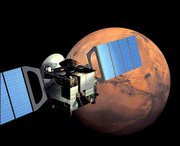 Scientists think Mars, which still has frozen water in its ice caps, might have once had liquid water and suitable conditions for life but lost them billions of years ago. It is believed that water may also still exist as underground ice.
Beagle 2 is expected to transmit its first pictures to mission control in Darmstadt in early January.
Around the same time, two NASA rovers are to land on Mars to concentrate on geology and surface mapping.
Copyright 2018 The Associated Press. All rights reserved. This material may not be published, broadcast, rewritten or redistributed. We strive to uphold our values for every story published.