Workers continued until Thursday evening cleaning up and repairing the damage caused when 16 coal cars on a Union Pacific train derailed Wednesday night in North Lawrence.
Using heavy equipment, about 100 workers shoved an estimated 1,600 tons of spilled coal into a pile to be hauled away, set upright railcars that were tossed onto their sides and repaired one of two tracks damaged when the cars left the rails about 8:25 p.m. Wednesday.
"We got the first line fixed by 3:05 p.m.," said Union Pacific spokesman Mark Davis.
Union Pacific is an Omaha, Neb.-based company that runs rail lines through 23 states. It averages more than one derailment a day, Davis said.
The North Lawrence cleanup began about midnight, when Union Pacific and private crews and heavy equipment arrived on the scene near North Fifth and Locust streets. They lifted the cars, began clearing the coal and removing the ruined track. Prefabricated sections of track were laid and bolted into the existing right-of-way.
"We had to repair around 600 feet of track," Davis said.
When the derailment occurred, the train was on its way to Texas to deliver the coal to a utility plant. "It will be taken out by truck or rail car, and then the utility company will have to decide what to do with it," Davis said.
Five maintenance crews came from Topeka, Bonner Springs and other northeast Kansas cities to help with the railroad repairs.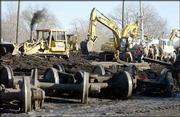 The crash renewed talk from neighbors of rerouting the North Lawrence tracks. Such discussion has been heard occasionally -- most recently after disclosure in 2002 that high-level nuclear waste would pass through the area on the way to a proposed dump site in Nevada.
"We would like to see the tracks be rerouted so they don't pass through town," said Ted Boyle, president of the North Lawrence Improvement Assn. "We're just thankful the train wasn't carrying hazardous material."
Davis said about 70 trains a day use the line that passes through Lawrence, and some of them do carry hazardous material.
Union Pacific is investigating the cause of the crash, which could take days or months to determine, Davis said. Because there were no injuries and no hazardous materials involved, federal transportation officials will not investigate.
"We really want to find the cause because it helps us analyze other derailments," Davis said.
The Lawrence crash was one of two that occurred Wednesday in the area. Six coal-carrying cars from a 36-car train derailed about 7 p.m. Wednesday night in a Kansas City, Mo., rail yard. The cause of that derailment is still unknown, Davis said.
---
Journal-World staff writer Katie Nelson contributed to this report.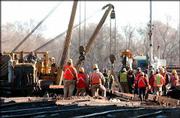 Copyright 2018 The Lawrence Journal-World. All rights reserved. This material may not be published, broadcast, rewritten or redistributed. We strive to uphold our values for every story published.