Cleveland — Otto Graham, the Hall of Fame quarterback who led the Cleveland Browns to a championship game in every season he played, died Wednesday. He was 82.
Graham died in Sarasota, Fla., team spokesman Todd Stewart said.
He died of an aneurism in the heart. Graham was taken to Sarasota Memorial Hospital earlier in the day with a tear in his aorta, the same heart condition that killed actor John Ritter, said his son, Duey Graham.
Graham was diagnosed with the early stages of Alzheimer's disease in 2001.
Nicknamed "Automatic Otto," Graham never missed a game as a pro while passing for 23,584 yards and 174 touchdowns. He finished his career with an astounding 105-17-4 regular-season record. He took coach Paul Brown's teams to the title game in each season from 1946-55.
"That's hard to beat," said Sammy Baugh, a contemporary of Graham's and also a Hall of Famer.
With Graham as their quarterback, the Browns won four championships in the old All-America Football Conference and three NFL titles. He was MVP of the AAFC three times.
Graham was inducted into the Pro Football Hall of Fame in 1965, and the Browns retired his uniform No. 14, which he wore from 1952-55. Graham wore No. 60 during the first part of his career, from 1946-51.
"The test of a quarterback is where his team finishes," Brown once said. "By that standard, Otto Graham was the best of all time."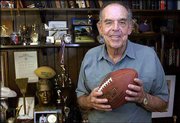 In 1994, Graham was picked for the NFL's 75th anniversary team, joining QBs Baugh, Johnny Unitas and Joe Montana.
Graham and the Browns moved into the more-established NFL in 1950. They debuted in Philadelphia against the defending champion Eagles, and Graham's first pass in the NFL went for a touchdown. The Browns stunned the sports world with a 30-20 win.
Cleveland went 12-2 during the regular season and then defeated the Los Angeles Rams, who had defected from Cleveland after winning the 1945 title.
The Browns lost in the NFL title game the next three years, before winning the 1954 championship behind Graham, who ran for three touchdowns and threw for three more in Cleveland's 56-10 rout of the Detroit Lions.
Following the game, Graham announced he was retiring. But he was talked into making a comeback on the eve of the 1955 season opener and led the Browns to yet another title.
In his final game, the 33-year-old Graham threw two TD passes and ran for two more as the Browns beat the Rams 38-14.
Graham later coached the Washington Redskins from 1966-68 -- he compiled a 17-22-3 record and was replaced by Vince Lombardi in 1969.
Copyright 2018 The Associated Press. All rights reserved. This material may not be published, broadcast, rewritten or redistributed. We strive to uphold our values for every story published.