Baghdad, Iraq — Faced with the desertion of nearly half the new Iraqi army, the U.S. military is thinking about raising the pay scale for Iraqi soldiers as it trains more to join the force, the commander of U.S.-led coalition forces in Iraq said Saturday.
U.S. Army Lt. Gen. Ricardo Sanchez said a separate, 550-member force drawn from militias affiliated with Iraqi political parties was being trained to fight insurgents in Baghdad. The unit, he said, was part of the Iraqi Civil Defense Corps and would work under the command of the 1st Armored Division, the U.S. military unit in charge of the Iraqi capital.
The new unit, whose members were recruited as individuals rather than party militiamen, has been under discussion for months between major political groups and the U.S.-led occupation authorities. The rationale behind it is that coalition forces, who are fighting Saddam Hussein loyalists, would benefit from the experience of those who have fought the ousted dictator in the past.
Sanchez said the major reason for the defections of Iraqi soldiers was pay, specifically allowances for married soldiers who were struggling to support their families on $60 a month.
"We're working to review the pay scales, and I think we'll have a decision in the coming weeks," Sanchez said. Of 700 soldiers originally in the new army, only 400 are left.
Sanchez said the setback shouldn't hinder the overall goal of training 40,000 members of light infantry battalions by next October. That contradicts reports that the U.S. military had scaled back that goal.
"I believe our targets in training for the new Iraqi army are still valid," Sanchez said. A new battalion of about 1,000 men is being trained, while a recruitment for a third is under way.
Sanchez, who had previously stated 5,000 detainees were under coalition control in Iraq, conceded the number was now "almost to 10,000."
Among that total are 3,800 members of the Mujahedeen Khalq, a group of Iranians who oppose their religious government and have been living in Iraq.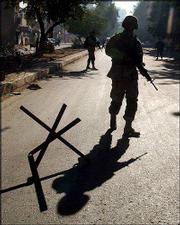 Copyright 2018 The Associated Press. All rights reserved. This material may not be published, broadcast, rewritten or redistributed. We strive to uphold our values for every story published.