DETROIT — How big will the crowd be at the game they're calling "Basketbowl?"
Well, there will be so many fans that most will have trouble figuring out whether the game starts with a jump ball or a coin toss.
When Michigan State (3-3) plays host today to Kentucky (4-0), a world-record crowd of close to 80,000 is expected to pack into indoor Ford Field, home of the Detroit Lions.
The eighth-ranked Wildcats will play the No. 21 Spartans on a three-foot platform above the 50-yard line.
"It's going to be wild," Michigan State guard Chris Hill said. "We've played in domes, but usually, the court is in the end zone and there's a curtain that cuts off half of the seats. It's going to be different to play in the middle of a big football stadium.
"I can't even imagine what it's going to be like playing in front of so many people."
About 600 Kentucky and Michigan State band members will blare their fight songs behind the baskets, instead of just a dozen toting tubas and trombones from the home team's pep band.
With no seats behind the baskets, thousands of students will stand -- and jump -- on the artificial turf to watch the action and be seen by a national television audience.
High-rollers have paid $500 each for seats on the court. A slew of standing-room only spectators will watch from the concourse between the bottom and top levels. Others have spent $8 just to say they were there -- even if they're so far away the players look like ants.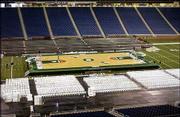 The basketball attendance record is 75,000, set in 1951 when the Harlem Globetrotters played at Olympic Stadium in Berlin.
The NCAA attendance record is 68,112, set in 1990 at the Louisiana Superdome when Notre Dame played LSU. The NBA record is 62,046 from a Chicago-Atlanta game at the Georgia Dome in 1998.
It's not the first time the Spartans have tried to set an attendance record.
Michigan State played Michigan in hockey two years ago at Spartan Stadium before 74,554, a world-record crowd for a hockey game.
When former Michigan State basketball coach Jud Heathcote heard about it, he told associate athletic director Mark Hollis, one of his former student managers, he better top the feat for the basketball team.
During a Lions game last fall, Hollis, associate athletic director Greg Ianni and Ford Field executive Dave Glazier came up with the idea to bring basketball to the downtown arena, which will play host to the 2006 Super Bowl and 2009 Final Four.
"It will be unorthodox and unique playing in a place like Ford Field," Kentucky coach Tubby Smith said. "I am eager to see how our players respond to that type of atmosphere."
Copyright 2017 The Associated Press. All rights reserved. This material may not be published, broadcast, rewritten or redistributed. We strive to uphold our values for every story published.