This year's rally in stocks, which hit a milestone when the Dow Jones industrial average passed 10,000, hasn't been strong enough to make Kevin Flynn forget about the money he lost in the downturn.
"Let's just say that three years ago I had about three times more money in one account than I do now," said Flynn, 41, of Martinez, Calif. "Things are going to have to get a lot better if I am going to be able to keep up with my friends in my retirement years."
Flynn, who works for a real estate title company, has stuck with the market, though. He still invests 10 percent of his paycheck in his 401(k). He's encouraged by the gains he's seen this year, but he can't shake the nagging feeling that more losses might be lurking around the corner.
"I'm worried that everything I spent years working for could come crumbling down in one lousy year again," he said.
Not this year. The Dow, which measures the performance of 30 actively traded blue chip stocks, passed the 10,000 mark for the first time in more than 18 months on Thursday, closing up 86.30, or 0.9 percent, at 10,008.16.
In trading Friday, the Dow extended its gains, closing at 10,042.16.
But market watchers who have seen this milestone before -- and watched it slip away -- were skeptical about the number's significance
"The Dow index is simply a nostalgic unit of measurement," said Ernest Csak, a trader who was walking out of the New York Stock Exchange after the market closed.
The first time the Dow passed the 10,000 mark -- March 29, 1999, when it closed at 10,006.78 -- the exchange had "a party atmosphere," Csak said. "Today ... it was business as usual."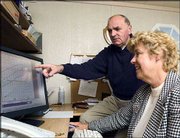 Csak said he followed other indexes more closely -- such as the Russell 2000, which measures the performance of small-cap companies, and the Standard & Poor's 500 index, a basket of 500 widely held stocks that provides a broad snapshot of the overall U.S. equity market.
Though traders downplayed the event, the Dow's move beyond 10,000 was likely to resonate with common investors, who have been looking for further evidence that the economy is improving.
"You can't minimize this cycle. I know it's just a number, and I know that most people don't even have any stocks in the Dow 30, but it's such a psychological lift for people, especially going into the holiday season," said Judi McDonald, who owns a financial consulting business in Hanson, Mass. "You know, perception is everything."
McDonald, a 57-year-old widow who considers herself a conservative investor, snapped up stocks in February after she'd sold some real estate last year. She'd cleared out her portfolio in December in order to cancel out the capital gains associated with the sale, and was thrilled to buy back companies she liked at very low prices.
"If you had done your homework, it was a very good time to be buying," McDonald said. "A lot of the companies had been punished beyond what was reasonable, just because when the market started to go south everyone jumped on the bandwagon."
During the bad times, Ted Mills, 32, a public relations executive in Los Angeles, sought safety in municipal bonds, mortgage-backed securities and high-yield corporate bonds. But he decided to raise his stake in equities over the summer, after watching the market sustain the rally it started in March.
"I really felt confident that the market was going to rebound, especially if interest rates were kept low," Mills said. "What I wanted to do was make some profit. ... I'm not trying to time the market, but I actually do want to make a profit before I turn 65."
Mills considers himself a moderately aggressive investor; knowing when to get out of a rising market takes some discipline, he said.
"I'm not day trading, but if I can go into a fund for however many months, and I've held onto it long enough to avoid high capital gains, and it goes up in value 10, 15, or 20 percent, then I feel I do need to sell," Mills said. "I don't want to wait for another period when there's a downturn and all the gains I've made are gone and I'm back to flat even again."
In June 2002, when the market saw several down weeks, 30-year-old Julie Keslik liquidated her portfolio of blue-chip stocks. She sold off holdings in AT&T;, McDonald's, Home Depot, Wells Fargo, Microsoft and Cisco Systems -- and figures she lost about $40,000.
But she's not sorry about cashing out ahead of this year's rally because she used the money to buy a $282,000 home in Minneapolis, which she says is worth about $450,000 today. Now Keslik is thinking about buying more stock, but she's in no rush.
"I want to see a little more traction in the market before getting back in and when I do, I am going to be a lot more cautious than before," she said.
Copyright 2018 The Associated Press. All rights reserved. This material may not be published, broadcast, rewritten or redistributed. We strive to uphold our values for every story published.