Washington — President Bush, trying to calm a political storm, said Friday that Vice President Dick Cheney's former company should repay the government if it overcharged for gasoline delivered in Iraq under a controversial prewar contract.
"If there's an overcharge, like we think there is, we expect that money be repaid," the president told reporters when asked about the Halliburton contract controversy.
Pentagon auditors say the company charged up to $61 million too much for delivering gasoline to Iraqi citizens under a no-bid contract to rebuild Iraq's dilapidated oil industry. Halliburton denies overcharging.
Meanwhile, an Army spokesman disclosed that companies from France, Germany, Russia and Canada won't be eligible to replace Halliburton as the recipient of the oil reconstruction contract.
The Army Corps of Engineers is reviewing bids and hopes to decide this month who will get the oil reconstruction deals worth up to $800 million in northern Iraq and $1.2 billion in the south.
The decision means an additional $2 billion in contracts in Iraq -- not disclosed before -- would be forbidden to countries that opposed the war, along with the $18.6 billion in Iraq work the Bush administration declared off limits earlier this week.
The countries that have been left out see the rules as payback, but Bush says limiting contracts to countries that sent troops and money to Iraq makes sense and will encourage more nations to join the U.S.-led coalition.
Democrats have joined the fray, saying Bush is needlessly alienating allies and rewarding political supporters. Cheney headed Halliburton from 1995 until he became Bush's running mate in 2000, and other executives from the company gave generously to the Bush campaign.
"George W. Bush is preventing entire nations from bidding on contracts in Iraq so his campaign contributors can continue to overcharge the American taxpayers," Democratic presidential candidate Howard Dean said while campaigning in Iowa Friday.
Pentagon officials say they gave Halliburton the prewar oil reconstruction contract because it was essential to start rebuilding quickly after the U.S.-led invasion.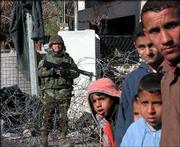 Copyright 2018 The Associated Press. All rights reserved. This material may not be published, broadcast, rewritten or redistributed. We strive to uphold our values for every story published.