Eudora — Business leaders say a proposed Eudora school district program may provide a boost to the area's efforts to become a hotbed for the life sciences.
Marty Kobza, Eudora school superintendent, spoke Friday about a new charter school and vocational-technical program that would train students for a career with biotechnology companies.
Kobza discussed the project during a K-10 Assn. meeting at Eudora High School.
"These type of companies are looking for a trained work force as much as anything else," said Rich Caplan, executive director of the K-10 Assn. "That is more important than ever in the site selection process.
"This program is not the type of thing that will make or break us as a life sciences area, but it is the type of thing that can give us a nice advantage."
Kobza said he became interested in a biotech charter school after following the efforts of Lawrence and the greater Kansas City area to become a center for life sciences companies.
"It is important that the K.C. metro area can show that we have a viable work force for that industry," Kobza said. "We want to assure those companies that they're not going to build a multimillion-dollar facility and have no one to staff it."
The Eudora school district has applied for an approximately $300,000 grant from the Kansas State Board of Education to fund the Eudora Biotech Academy. The two-year degree program would provide advanced science and mathematics training for about 40 students who are interested in pursuing a career as a scientist, researcher or other high-level positions in the biotech industry.
Kobza said the district also wanted to begin a vocational program that would train about 40 students per year for mid-level positions at biotech plants.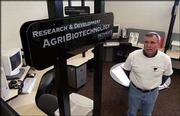 "They may not be the researcher or the doctor, but it would be a very good job for a kid who maybe isn't going to go on and get a four-year degree," Kobza said.
Lavern Squier, president of the Lawrence Chamber of Commerce and a member of the new Lawrence Life Sciences Task Force, said he would monitor the progress of the Eudora program.
"This is a good example of one of those areas that we have to be anticipatory in our thinking," Squier said. "We can't wait until companies start to come here to do this. Now is the time to do it."
Kobza expects to be notified this spring whether the district's grant request has been funded. If funding is received, he said the academy could begin during the 2004-2005 school year. The vocational program likely wouldn't begin until the 2005-2006 school year, he said.
The vocational program would be part of the district's new Eudora Technical Center, a vocational training school that opened in the former junior high building at the beginning of the school year.
The center has 70 students, mainly from Eudora and De Soto, who enroll in one of five programs -- agriculture, nursing, hospitality services, printing and graphics, and auto body repair.
In addition to the biotech manufacturing degree, Kobza said the district had plans to add an industrial maintenance program to the technical center during the next two years. He said staff members had created a curriculum for the program after hearing from area business leaders who said it was difficult to fill maintenance positions.
Copyright 2018 The Lawrence Journal-World. All rights reserved. This material may not be published, broadcast, rewritten or redistributed. We strive to uphold our values for every story published.