There wouldn't be Christmas without it, and yet many people move through the holidays with only the barest recognition that something vitally important to the Christian faith is going on.
It's Advent -- the four weeks leading up to Christmas -- and it's a time that often gets overlooked in the headlong rush of shopping, baking and decorating.
Some Lawrence pastors said they lament that Advent, the first season of the liturgical year, doesn't always receive the attention it deserves.
The Rev. John Schmeidler, associate director of St. Lawrence Catholic Campus Center, 1631 Crescent Road, explained why.
"You start hearing Christmas songs in October, so Advent seems to get lost in people's lives. They are rushing around to get things done for Christmas, and they miss it. What ends up happening is that we get so wrapped up in it that we miss God's presence dwelling there," he said.
Some Christians are prone to forget the religious significance of the weeks before Christmas, which are traditionally supposed to center around the anticipation and preparation for the birth of Jesus.
And that's too bad, representing a triumph of commercialism over faith, several Lawrence pastors said.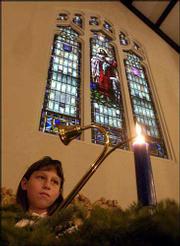 "In my view, the secular celebration is all about getting to Christmas quickly. The signs of that are the onset of decorations in streets and stores, the music on the radio," said the Rev. Lewis Hinshaw, associate pastor of Plymouth Congregational Church, 925 Vt.
"But what Advent means to me is, 'Don't be in a hurry.' We're reminded that God acts in the world on God's schedule, not ours. Advent says, 'Not yet. It's coming, but not yet.'"
Vivid metaphor
Advent doesn't receive the attention that Christmas does, but many Lawrence Christians do take part in rituals and traditions that underscore the season's meaning.
They light Advent candles on successive Sundays; decorate churches with wreaths, poinsettias and Christmas trees during the "Hanging of the Greens"; listen to liturgical readings on the Advent theme; and participate in special, midweek worship to help them focus on the importance of the days leading up to Jesus' birth.
First Presbyterian Church, 2415 Clinton Parkway, has started a new and different way of bringing home the message of the season.
Each Sunday during Advent, a young family from the congregation gets up and shares its experience of what it's like to prepare for the arrival of a baby -- a vivid metaphor of how Christians should prepare themselves spiritually for the coming of Jesus into the world.
On the first Sunday of Advent, Nov. 30, Jeff and Mary Margaret Morrison shared the story of their son's arrival in their lives.
Many Christians light candles on an Advent wreath in their homes or churches during the four weeks leading up to Christmas.There is room for five candles on an Advent wreath, each one with a different significance. They may be kindled each day, or on successive Sundays in the Advent season.Three candles are typically purple or light blue, and one is pink. The purple candles represent the themes of hope, peace and love. The pink candle represents joy.A center candle is white and is called the Christ Candle. It is lit Christmas Eve.Advent started Nov. 30 and ends Christmas Eve.
"I just talked about how I always wanted to be a mom, and I didn't think I was going to be able to have any children. We just went through this journey of modern medicine. At times I felt myself losing hope, but I just turned to prayer and relied on God, and God brought us Asa," Mary Margaret said.
The couple likened the atmosphere surrounding the coming of their son, Asa Milton Morrison, now 13 months old, to the Advent season.
"I just talked about the incredible joy that Asa has brought to us, and how I just hoped that our congregation would thrill at the anticipation of Advent and the celebration of God's greatest gift to us," she said.
Another way that Advent is taking on added importance is that First Presbyterian is using the season to increase awareness of hunger in the community.
Special activities have been planned for each Wednesday during Advent, such as having church members share what would be a typical meal served at the Lawrence Interdenominational Nutrition Kitchen; inviting hunger advocates to speak; and having church youth visit Lawrence food banks.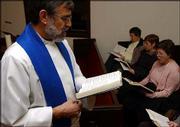 Real anticipation
A traditional way to celebrate Advent is with music -- sacred hymns and sometimes Christmas carols, too.
St. Lawrence will have special liturgical readings during Advent as a way to prepare Catholics for the coming birthday of Christ, as well as a Dec. 13 worship service of Lessons and Carols.
The service will feature Advent and Christmas hymns, along with readings from Scripture intended to help worshippers enter the season of Advent.
Immanuel Lutheran Church & University Student Center, 15th and Iowa streets, celebrates Advent by lighting candles on an Advent wreath, decorating the church with greenery a little more as each week passes and scheduling a series of Wednesday midweek services and activities around this year's theme, "O Tannenbaum: How Eagerly We Await You."
Advent is celebrated at Trinity Lutheran Church, 1245 N.H. with Wednesday evening worship services, lighting of an Advent wreath and time set aside for caroling holiday hymns.
"What we are waiting for is something more precious and important than just the presents and the social celebrations of Christmas. We are waiting for the reality of the risen Christ in our lives again," said the Rev. Gary Teske, Trinity Lutheran's lead pastor.
"It's one of the overlooked seasons. It's a good season to step back, kind of be quiet and look forward with real anticipation."
Copyright 2018 The Lawrence Journal-World. All rights reserved. This material may not be published, broadcast, rewritten or redistributed. We strive to uphold our values for every story published.