Norman, Okla. — The people's choice to be in the Sugar Bowl won't be in New Orleans. The computers' pick will -- and that's good enough for Oklahoma coach Bob Stoops.
The third-ranked Sooners (12-1) managed to keep their spot in the Bowl Championship Series title game despite a stunning 35-7 loss to Kansas State for the Big 12 Conference championship.
That defeat dropped Oklahoma behind Southern California and LSU in the human polls.
But USC finished third in the final BCS standings despite its No. 1 ranking in the human polls, sending the Trojans to the Rose Bowl instead of the Sugar Bowl.
The snub of USC prompted a predictable outcry against the BCS, but Stoops refused to apologize for his team's bowl bid.
"If we're in that position, it speaks for itself," Stoops said. "Our strength of schedule, our quality wins, everything they take into consideration indicates that we've earned our way.
"We've had 13-14 straight weeks of being No. 1, carrying that burden the entire year and playing pretty well. In the end, we're No. 1 in the BCS. I find no shame in that."
OU will play LSU (12-1) Jan. 4 in the Sugar Bowl with the BCS championship on the line. It's the second time in three years that a team will play for the title without winning its conference (Nebraska was the other).
The BCS, designed with the hopes of reducing controversy in college football's national-title race, uses a formula that incorporates the AP media and coaches' polls, seven computers, strength of schedule and won-lost record.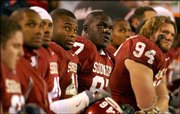 Instead, it's created as much debate as it sought to end.
Texas coach Mack Brown, whose fifth-ranked Longhorns were knocked out of the BCS because Kansas State beat Oklahoma, said there always would be problems if no teams were undefeated at the end of the regular season.
USC's only loss came in triple overtime against California (7-6). LSU lost to Florida (8-4).
"Three teams would say that they feel like they could be No. 1," Brown said. "The only way to settle that would be a playoff."
Stoops said his team's credentials were just as good as anyone's, noting that Oklahoma's lone blemish came in the Big 12 championship game against a team ranked No. 8 in the AP poll and headed to the Fiesta Bowl.
"Other guys shouldn't be sitting home relaxing, (while) you've got a couple of conferences playing championship games," Stoops said. "Let's get everybody to play one if you want to include it in the BCS structure. To be fair, that would be the case. But I don't know if anybody's real concerned about being fair. It's just the way it is."
Copyright 2018 The Associated Press. All rights reserved. This material may not be published, broadcast, rewritten or redistributed. We strive to uphold our values for every story published.