Manhattan — Suppose some terrorist smuggles key components for making a nuclear weapon into the country and is riding around with them in the trunk of his car.
What are the odds of it being discovered?
Perhaps a little better now, thanks to a tiny device developed by a Kansas State University professor of mechanical and nuclear engineering.
"If you have neutron emissions from the trunk of a car, it might be worth looking in the trunk," said Douglas McGregor, who heads a project to develop small, portable neutron radiation detectors.
McGregor, who has worked on the project for a decade, said it could be three years or more before the collar-button-size detector goes from research to applications limited only by the imagination.
For instance, a weapons inspector could use a handheld detector to scan suspected areas, or it could be attached to a person's belt ready to sound an alarm. McGregor said the range depended on numerous factors, but added, "If you are detecting neutrons, you are close by."
Detectors could be placed in areas where nuclear weapons are stockpiled. If neutron levels drop it's a good indication that something's amiss -- or missing.
In public areas, detection of increased neutron levels also could sound a warning, including whether a person has been working around plutonium and uranium.
'No silver bullet'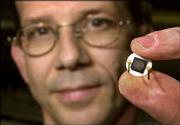 McGregor's detectors are small enough and durable enough to go inside cargo containers coming to the United States. They also could be disguised as pebbles or leaves scattered over a wide area to detect movement of nuclear material.
"This isn't an easy game to play. Neutrons are in small amounts. To be a bomb, it would have to have enough uranium or plutonium to be detected," McGregor said. "Sadly, there is no silver bullet. What we make are detectors that inspectors can add to their arsenals."
Plutonium and/or uranium are the key explosive components to any nuclear bomb. Those elements always emit neutrons, although in small quantities.
"The reason we like neutron detection is that in general you don't have a whole lot of material that emit neutrons that aren't special nuclear materials," said Ray Klann, a researcher at the University of Chicago's Argonne National Laboratories who has worked with McGregor for six years.
McGregor said all neutron-emitting materials were regulated by the government.
"A neutron signal is clearly an indication that it's something that should be looked at," he said.
The detector's heart is the small wafer McGregor made from a semiconductor material similar to silicon and coated with a material sensitive to neutron radiation.
The detectors can be made in any size or shape depending on need -- the bigger the wafer, the better its detection ability. The current version would cost about $20 to produce in bulk.
Blank semiconductor wafers are purchased commercially. McGregor and his team of about a dozen graduate and undergraduate students then design and fabricate detectors from the wafers.
Making it portable
Typically, a 3-inch wafer can be cut into 70 detectors, each mounted on a round piece of ceramic with two pins. It can sense 50 percent of neutrons that pass it -- enough to detect if something is nearby.
As for Argonne's role, Klann said, "Doug provides the actual detectors and we have to incorporate them with all the electronics" to design and develop equipment that can be used.
Neutron detectors have been around more than 50 years, but they are big, bulky, expensive and need a lot of power to work.
"They have their place and they won't be replaced. What we've added is a portable way to do it," said McGregor, who discovered in 1990 how to make such detectors work on low power.
His original plan was to come up with something for seeing neutrons through solid materials.
But post 9-11 concerns about possible terrorists activities in the United States generated new interest in neutron detectors.
Copyright 2018 The Associated Press. All rights reserved. This material may not be published, broadcast, rewritten or redistributed. We strive to uphold our values for every story published.