Not only is it beginning to look a lot like the holidays, in Douglas County it's starting to sound like the holidays as well.
Vespers performances throughout the weekend brought a variety of Christmas music to thousands of people who listened in churches and auditoriums.
More than 100 people gathered Sunday in the chapel in Lecompton's Territorial Capitol Museum, where vocal and piano solos mixed with choir and group singing. The Lecompton United Methodist Choir opened the program.
"It's like an old-fashioned, country Christmas program -- like a lot of us remember when we were kids," said Karen McConnell, rural Lecompton.
Donna Meier, also of rural Lecompton, agreed.
"It just kind of starts the season for people around here," she said.
When the vespers program started at the museum about 20 years ago those attending posed in group pictures with the choirs. That was discontinued a few years ago when it became too difficult to get everybody in the picture.
There certainly wasn't any way to get everybody into a picture at Kansas University's Lied Center where nearly all of the 1,800 seats were occupied for the 79th Holiday Vespers. Two performances were conducted Sunday and one Saturday.
The performances included music from the KU Symphony Orchestra under Nicholas Uljanov, the KU Oread Singers, KU Flute Choir and KU Men's Glee.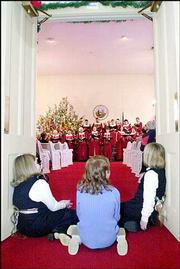 It is a yearly family tradition for Jenny Banks to attend the Holiday Vespers, the Topeka woman said. Her son, Karl Banks, a KU sophomore, performed with the KU Men's Glee.
"They change the music every year, but they continue to find new and interesting pieces to highlight the choirs," Jenny Banks said of the program.
The vespers traditions continued in Baldwin as well. Sunday at the First United Methodist Church, Baker University performed its annual Christmas Candlelight Vespers in two programs.
Copyright 2018 The Lawrence Journal-World. All rights reserved. This material may not be published, broadcast, rewritten or redistributed. We strive to uphold our values for every story published.