Photographer: Thad Allender
Camera: Nikon D1H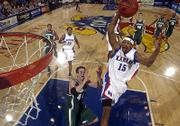 Lens: 17mm
ISO: 640
Shutter speed: 5.6
Aperture: 1/400
Wireless technology has taken life to places no one thought possible. From car starters to Internet service, the list gets larger and more extravagant every day.
In photography, this technology has played a key role in capturing life from unusual angles, free of trigger fingers and wires.
Last week before the Kansas University-Michigan State basketball game, I decided to mount a camera behind the backboard glass with hopes of catching a dunk or a rebound up close. I secured the camera with a clamp to the backboard, taped below the lens to block reflections and connected my wireless remotes to both the lights and the camera.
Sitting on milk crates on "photographer row," shooting most of the action from the floor, I waited for the right moment to "trip" the camera mounted behind the glass. The photo above, which ran on the front page of the Journal-World's A section, shows J.R. Giddens going up for a dunk on a fast break.
-- "Behind the Lens" is an ongoing weekly series that features an image selected by the Journal-World photo staff that previously ran in the newspaper or online. Wondering how a certain picture was created? Nominate it for "Behind the Lens" by contacting chief photographer Mike Yoder at 832-7141 or myoder@ljworld.com.
Copyright 2018 The Lawrence Journal-World. All rights reserved. This material may not be published, broadcast, rewritten or redistributed. We strive to uphold our values for every story published.