No one can say Lew Perkins hasn't been a boon for the Lawrence economy.
Since taking over as Kansas University athletic director five months ago, Perkins has upped the ante on salaries for senior athletics department administrators.
He and four senior staffers earn six-figure salaries. That's three more than his predecessor had, and with a total annual price tag hundreds of thousands of dollars higher.
"We always try to hire the best people, whether it's in the history department or the athletic department," Chancellor Robert Hemenway said. "If you want the best people, you have to provide a certain level of compensation."
At $400,000 a year, Perkins commands the highest listed salary among all KU employees. With a salary equal to President Bush, Perkins is among the highest-paid ADs in the country -- and easily tops his counterparts in the Big 12.
Texas A&M;'s Bill Byrne's salary is $350,000; Nebraska's Steve Pederson earns $325,000. Texas AD DeLoss Dodds earns $318,600 a year, but Dodds is in charge of only men's athletics at the nation's largest university. Texas also has a women's AD, Chris Plonsky, who earns $225,000 a year.
Plonsky's salary matches what Mike Alden earns for overseeing both the men's and women's programs at Missouri, although Alden's contract contains several bonus clauses based on the Tigers' postseason accomplishments. At Kansas State, athletic director Tim Weiser has a $250,000 salary and says he hasn't had a raise since he was hired three years ago.
In the Big 12, Kansas' senior staff salaries most closely parallel those of Texas A&M; and Nebraska. The Aggies have five athletic administrators with six-figure salaries and the Cornhuskers have four. Texas is far and away the league leader with seven six-figure-salaried staffers in addition to Dodds and Plonsky.
The Chronicle of Higher Education found in a recent study that more than a dozen ADs currently earn more than $300,000 a year, and the average salary for the six conferences aligned with the Bowl Championship Series is $268,000. Among those is Mitch Barnhart, who became Kentucky's AD in 2002 at a salary of $375,000.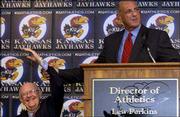 Taking on salary
Perkins' salary at UConn was $273,870. Kansas, incidentally, had to pay UConn $200,000 to buy out its pact with Perkins, which extended through July 31, 2005.
Al Bohl, Perkins' predecessor, was making $255,000 a year when he was fired in March. When announcing Perkins' hiring, Hemenway caused many a jaw to drop when he said he had hired the 58-year-old Connecticut AD for $145,000 more than Bohl had been paid.
After he took over July 7 on Mount Oread, Perkins -- who declined to comment for this story -- wasted little time dangling some dollar signs himself.
According to figures supplied by the KU office of budget and planning, Perkins brought in Larry Keating as senior associate AD at $145,000 a year. Then Perkins hired Jim Marchiony ($140,000), Kelly Landry ($138,000) and Sean Lester ($125,000) as associate ADs, all at higher salaries than John Hadl ($120,000), an incumbent associate AD. Marchiony and Lester followed Perkins from UConn.
Perkins also created a new position -- assistant AD for strategic planning and administration -- and hired son-in-law Brandon Macneill for that post at $95,000 a year. Macneill, 32, had been an associate AD for marketing and development at Princeton University.
With a master's degree in sports management from UConn, Macneill brings solid credentials to his new position, yet his father-in-law has accused the Journal-World of negative reporting for what he says has been repeated mention of the fact Macneill is married to one of Perkins' two daughters.
Three-for-five trade
In a nutshell, Perkins has hired five people to replace three staffers who departed -- associate ADs Richard Konzem, Doug Vance and Janelle Martin. Konzem was being paid $110,000 a year, Vance $76,125 and Martin $75,011, according to the KU office of budget and planning.
Add the salaries of Konzem, Vance and Martin and subtract them from the total of Perkins' five new hires and the difference is about $380,000 a year. That's a lot of money for an athletic department that dropped men's swimming and men's tennis three years ago because of lack of funds.
"Nobody is going to say you want to spend more," said Mike Maddox, a former KU basketball player who is chairman of the KUAC finance committee. "The key thing is they're going to be held accountable to their results. They're going to be judged by their results."
Not that six-figure salaries are unusual on Mount Oread. A survey of the 2004 university budget book shows, for instance, that about 65 distinguished professors earn $100,000 or more a year, although in most cases endowed chairs provide about half of their salaries.
The salaries of Perkins' top hands are comparable to similar positions on Hemenway's senior staff.
For example, executive vice chancellors Janet Murguia and David Shulenburger have listed salaries of $198,472 and $179,678 respectively. In addition, most deans are paid between $150,000 and $200,000 a year, and the five vice provosts are in the $100,000 to $150,000 range. Hemenway's official salary is $222,331, but he receives at least $50,000 more per year thanks to a $1 million gift from KU alumnus Charley Oswald.
Hemenway also receives a car provided by the KU Endowment Association, and housing at The Outlook.
Hemenway said he had no hesitations about the increase in spending in the athletic department. He said the quality of new employees made the money worthwhile.
"I think they're very professional, very experienced and widely respected," he said.
Copyright 2018 The Lawrence Journal-World. All rights reserved. This material may not be published, broadcast, rewritten or redistributed. We strive to uphold our values for every story published.