Free State High boys swimming and diving coach Annette McDonald has no reason to hide her team's expectations.
With plenty of proven swimmers, as well as an impressive crop of newcomers, McDonald wants to see Free State on the champion's podium at the state meet in February.
"We'd like to be in the top three at both league and state," McDonald said. "That's the ultimate goal. We feel we have a really good chance of getting there."
By February, the Firebirds should be at full strength and looking to prepare for what could be a special postseason. But for the first month of competition, five of Free State's top swimmers -- Alex Brunfeldt, Chris Wolff, Anthony Portela, Chris Sellon and Chase Torgerson -- will be training with the Lawrence Aquahawks. They will join the Firebirds in January.
Until then, McDonald is more than pleased with the swimmers she has. In the three meets before the full team comes together, McDonald will evaluate and get to know the swimmers with whom she's not so familiar.
Other than the five Aquahawks, McDonald said Bret Robinson, Will Hecht, Andy Frye, Spencer Flannigan and Nathan Schriner could be impact swimmers for Free State.
And with the newcomers showing a lot of promise, it could add up to a season to remember.
"It's a good feeling that we have potential with our new swimmers," McDonald said. "It's really nice because they're really motivated."
Lawrence High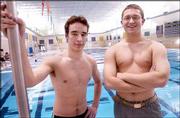 Lions coach Alicia Jackson is counting on her four seniors -- Phillip Wrigley, Harry Swartz, Ian Legler and Martin Vertacnik -- to help improve on last year's ninth-place finish at the Sunflower League meet.
Beyond those four, this year's LHS squad looks to be full of youth -- not that that's a bad thing.
"It's somewhat of a novice team," Jackson said. "But they're learning quickly, and I can see some endurance building already."
Among those who do bring experience is junior Nick Leet, the lone diver on this year's squad. LHS diving coach Ryan Adams said Leet's preseason had been impressive, and though he's a one-man show, he'll contribute significantly to the team's point total.
But for the most part, this year's Lions look to be a work in progress.
"We want to have at least one relay team qualify (for state)," Jackson said. "I'd like to see my seniors qualify in a relay or individual events. Our goal is to really build and really work toward qualifying for state."
The season for both city squads starts at 4 p.m. Wednesday at Blue Valley.
Copyright 2018 The Lawrence Journal-World. All rights reserved. This material may not be published, broadcast, rewritten or redistributed. We strive to uphold our values for every story published.